INEC Must Conduct Elections On Schedule - Senate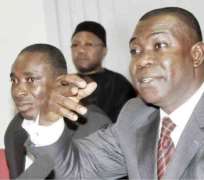 ABUJA, July 23, (THEWILL) - Deputy Senate President, Senator Ike Ekweremadu today asked the Independent National Electoral Commission (INEC) to stop advancing lame excuses not to conduct the 2011 general elections by January as provided in the current constitution. He said enough provisions have been made for a smooth conduct of polls.
He also condemned such calls, which are premised on time limitations, absence of new voters register adding that it could also be interpreted latter to mean plot for tenure elongation.
"National Assembly cannot initiate demand for tenure elongation," he said.
Ekweremadu who was the Chairman of the Senate Ad-Hoc Committee on the Review of the Constitution, spoke at a breakfast meeting with National Assembly Correspondents on Friday.
He said, "We do not want to be seen to be pushing for tenure elongation. If Nigerians want it we want them to say it loudly. We do not want to as a National Assembly be seen to be taking the initiative to shift that of the election for any reason or whatsoever. But what we have done is now to assist INEC because I do not see what the big deal is and why they cannot hold election in December.
"They gave us their concern about the electoral act, the dates set out in which they will do certain things including voters' registration which is their major constraint now. They are saying that under section 10 of the 2006 electoral act, everything about voter registration need to be concluded 120 days before election, so they make a request that we should reduce it to 60 days, so that they will have longer time frame to do registration of voters, we have done that in the senate version, we are believing that when we go for conferencing that our House of Representatives counterpart will be able to adopt that as well.
"So, if that happens, they will now have sufficient time to deal with the issue of voter registration. So I do not see whatever road block that can stop them from doing election in January. In terms of financing, we want to make it mandatory that they can get the money through the first line charge. All that needs to be done is that if they need money, they will go to the President, if the President sends us a bill, which is supplementary appropriation, we will be glad to pass it and then based on the constitutional provision, they will get it quiet easily. So I do not see any reason why INEC cannot conduct a free and fair election in January 2011," he said.
Senator Ekweremadu further reminded that; "One of the submission of Uwais committee is that there should be an early election, so that election judicial matters can be handled before swearing in. Following from that, we now altered the earlier provision of the constitution in terms of time in which election can take place, bringing it from 150 days to within 60 days.
"Having made this allowance, some people are now complaining. The same people who were asking us to adopt Uwais report, they are now complaining that election is coming so soon. And come to think of it, after 2007 election, we all knew that there will be election in 2011. And no preparation was made till now. So that is the problem because this issue of voter registration should have been completed before now, whether it is January, whether it is April, election will take place in 2011.
"So, INEC has known this all this while. If they have been alive to their responsibility, I am sure that by now, they would have concluded most of the things that has to do with election in 2011 by putting things in their proper place; you can see that this did not happen. And unless we change our attitude, in 2015, we are going to have the same issue. By the time we get close to election, everybody will start panicking. So we need to start early to plan the things we do in this country", he stated.