Fans React To Pete Edochie Message, Amber Scenes In Movie To Be Edited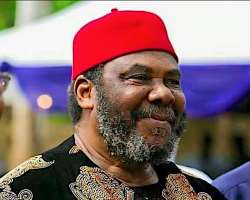 Veteran Nollywood actor and producer, Pete Edochie post has spark reactions from fans and followers. The father to controversial filmmaker, Yul Edochie, comment on security agencies in the country has met several reactions from Nigerians.
His tweet reads, " if police were given helicopters, they'll still collect money from birds for flying without helmets."
A fellow twitter handler, maxtondanny reacts, "Thanks for interpreting. The original post was in Lebanese. "
Meanwhile, another user @supergentlemb refuted, "Sir u can't generalise & am not saying they good in terms of performing their duties but we can't dispute the fact that they are trying. To GOD who made me, sir. If the police are not working at all the way you claim sir, you can't sit comfortably & tweet that's if u are in Nigeria. "
Countering the above, a user @celestine ulasi replies, "Point of correction. Police don't risk their life, they risk people's life. They are the real risk to life especially in Nigeria."
On the international scene, after the fair judgement between the couple, Depp and Heard which received its
verdict last week. It is certain that all Amber Heard scenes will be completely deleted from the award winning movie, "AQUAMAN2."
According to Ellis Greg, Hollywood needs to establish a morals clause to keep actors mindful of their actions. Though there are no official word from the studio but it is certain that such action would take place in due course.