My regret as single mother — Monalisa Chinda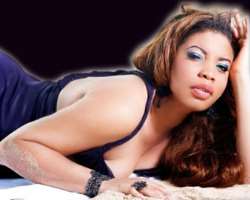 Nollywood, screen goddess, Monalisa Chinda is no doubt, a beauty to behold any day. She is rave of the moment and she is sizzling hot at this time. Lisa who broke up with her erstwhile husband barely some months ago bares her mind in this extensive interview with Aramide Pius.
She spoke on her challenges as a single mother, her career and what life has taught her. Excerpt;
What has changed ever since you became a Glo ambassador?
Well nothing really in terms of my career. Only that I have to go Glo events. You know being an ambassador, you have to go their events and programmes. It has also made me realize that I'm not just an actress but that people are actually watching me. It has given me more self belief that I'm being noticed and appreciated for what I do. It is a privilege.
What is the first thing you do when you wake up in the morning?
I say my prayers after which I cleanse my face. After doing that I rush into the gym to work out.. I gym four hours everyday. Two hours in the morning and two hours in the evening, four hours of work out everyday.
Are you a colourful person?
Yes I love colours. You can see my house, it is a reflection of who I am. I'm a very colourful person and into interiors too. I love Peach, Pink and colours of that nature. I love babyish colours; I have always loved that since I was a child.
Are you a designer freak?
I love good and quality things, it doesn't have to be tied to a particular name. There so many beautiful things out there that are not tagged to any name and you have some stuffs too that are good and made by designers that are not popular and they are really good stuffs. So for me, good quality is my watch word, not really the name of the designer on it.
With your busy schedule and the nature of traffic in Lagos, do you drive yourself or you have a chauffeur?
Yes I do drive myself. The traffic at our end in Lekki is timing. If you do not know how to time your way around Lagos, you will not find it funny at all. For instance, if I'm going out for the day, I will make sure that by the time I'm dropping my child off at school, I'm already dressed for my outing.
If I leave around 8 am, the traffic will not be as congested as it will be later in the day. Shooting around Lekki makes it better for me because of proximity.
So which programme do you love the most and that you watch?
I love to watch comedies because I love to laugh a lot. There is a particular comedy programme that I love to watch all the time.
There is also this programme where primary school questions are asked adults but then the adults have to rack their brains to get answers. I love the programme a lot. Such things trip me.
What is the most beautiful experience you have ever had?
Having my baby is that most beautiful experience I have had.
What is the craziest thing a fan has told you?
I can actually remember the day when a six year old baby who must have watched one of my movies the previous night where I may have acted like a bitch, saw me. Immediately, he just sat opposite me starring at me thinking of what to do to me.
Next he rolled a piece of paper and threw it at me. When the mother saw him, she was mad at him. He then came close to me to tell me he was sorry.
What is your favourite day of the week?
Well may be Sundays. You know after going to church to worship, you come home and rest or you go visiting family friends and all that but really, I don't care about any day of the week.
Can you tell the greatest challenge that you have had to face in life?
I would say that the challenge is that right now I'm a single mother which is not exactly very rosy.
Of course there is mixed feeling when you are out there alone wit the child because of the different ways people see single parenthood. What really bothers me is the fact that the child does not have a father figure at the moment.
It is quite a challenge because I grew up with both of my parents living together and what has happened to me is something I never could have thought would happen to me.
But I had to take a drastic decision because of my life. I am happy to be where I am however and I do not have any regrets.
How is your daughter adjusting to single parenthood, is she coping?
She is fine but I really don't know how to answer the question. She is there and she is fine.
Does she not ask after daddy?
She does not know who daddy is.
Really?
Yes, she doesn't know who daddy is.
Could your being at the top of your career at the moment be associated with the fact that you are now on your own?
Yes I'm more peaceful with myself now. I'm at peace with my creator and I have no fear of anything that is going to happen. I'm as free as a bird to do anything I want to that which is good.
I already started up my charity work which I was not able to do when I was in bondage. Right now, I'm more pleased; I'm more creative, I'm much stronger…
I finally confronted my fears because then, I was usually afraid of the next moment.
But now, I have taken the bull by the horn and I'm bolder, I'm more confident and I don't think that there is anything that will happen to me now that will make my legs wobble. No! I will stay strong. I think that is it.