CARIBBEAN DRUG LORD JOSE FIGUEROA AGOSTO ARRESTED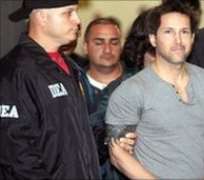 One of the Caribbean region's most wanted alleged drug barons has been arrested in Puerto Rico.
Jose Figueroa Agosto was captured by the FBI in the island's capital, San Juan, ending a decade-long manhunt.
He is accused of running a major smuggling ring that moved Colombian cocaine into the US via Puerto Rico and the Dominican Republic.
In 1999, Mr Figueroa, 45, escaped from prison in Puerto Rico, where he was serving a 209-year sentence for murder.
Last year, he narrowly avoided capture in the Dominican Republic, escaping on foot after police shot out a tyre on his car.
'Tremendous arrest'
Mr Figueroa was caught wearing a wig while driving in San Juan, US officials say.
They say he tried to run on foot – as he did in 2009 – but was caught by US Marshals and FBI agents.
"We asked him his name, and he simply answered that we knew who he was," Antonio Torres, the head of the US Marshal Service's fugitive task force in Puerto Rico, was quoted as saying by the Associated Press news agency.
US Attorney Rosa Emilia Rodrigues later said at a news conference that it was "a tremendous arrest".
Mr Figueroa is also wanted in the Dominican Republic on kidnapping, money-laundering and drug-trafficking charges.