NO BIG DEAL ACTING NUDE — NSE ETIM, ACTRESS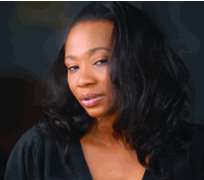 Nse Etim
When you talk about Nollywood star, Nse Ekpe Etim, what comes to mind is a daring, no-holds-bared actress. Etim symbolizes a complete professional in her area of specialty: acting. Not many would find the luxury of enjoying what Etim does on screen because her role interpretation is one in a thousand. She is one actress that takes her work seriously. She works when there is work to do and plays when it is time for it. No matter how crazy or unpopular a script might be, if it appeals to Etim, she dives into it head long. Yes, this actress takes whatever role she is assigned. Even if it means acting nude or lying in a coffin, she is all for it!
Etim's story is interesting. She summed it up in this way: 'It just happened to me. I came in the first time in 1997. I left and went into banking and other industries. Then, I came back again with the movie, Reloaded and that's it'.
The graduate of Theatre Arts from the University of Calabar explained why she left Nollywood and took up a job in the bank. 'I went in search of greener pastures and it was very interesting. It is the lesson of life. I came back because I didn't feel fulfilled as I did, and as I wanted to be. I rejoined the industry two years ago. I came back and I felt better,' she says.
Although, when Etim first stormed tinsel town, it was with the movie, Venom of Justice Part 2, she has since acted in many other movies such as Scars of Womanhood and Edikang. But then judging by her roles what one cannot take away from this fair-complexioned beauty from Akwa Ibom State is her ability to tread where angels dare not walk. Blockbuster asked how Etim feels being famous for her daring roles in movies.
She says: 'Acting is my job. I am only doing my job. I did a movie where I was lying in a coffin. Are you going to ask me if those were an attachment to the coffin too? No. It was my job. I was acting. It was interesting. To lie down in a box is interesting but if you are dead, it's a coffin. When you have signed up as an actor, you will do anything the script tells you to do. That is it for me.'
On whether she can act nude, the Abuja-based actress, who also runs a catering service has this to say: 'Acting nude is part of the job. Because Nigeria has not grown that much, I won't do it because of that but yes, if it makes sense in the movie where a woman is killed in the water and she was dead and naked, there would be a body there, wouldn't it? In that case, I'll prefer to act and do my job. I will always do my job. But it will never be like if you give me this amount of money I will act nude. No, I won't act nude for money.'
The fast talker maintained that she intends to act all her life and advocated some form of learning to really bring back Nollywood to its feet.
Etim expressed her opinion on the backdrop of the new film school, Royal Art Academy, that producer Emem Isong recently established. 'Then, it was the best of Nollywood, and towards the middle we had the death of Nollywood, we now have the rebirth of Nollywood,' the actress volunteers.
She says further: 'I see a brand new crop of actors coming up with a lot of confidence. The fact that you read Theatre Arts does not necessarily mean you would be a good actor or television presenter. Learning to act for television is different and learning how to act for film is different. Yes, you get the basics, you get the grounding, with the film school, what you get is exactly what we are looking for, I think it's a good thing that people are giving back to the society and in our little way, we are giving back.'
Pretty but single Etim, however, confessed that she is not in a relationship right now. 'I do not have a relationship and I am not married. I used to describe a man of my dream and all that when asked this kind of question but the truth is that who God brings is the man for me.'
For Etim, what drives her is her ability to assume and stay in the character she is portraying in a movie even as every role has been challenging because, 'I have to play different roles.'
To her numerous fans, Etim is grateful for their consistent support over the years. 'To my fans, I am human, so sometimes I would fail them but they should stand by me. That's all I ask for. And to all my friends and everyone who has been there for me, I am saying thank you very much. It's been a really tough world, tough journey; they should please continue to support me.'
Etim's long life dream, she concludes, is to use acting to affect lives positively.