HOW CHINUA ACHEBE MADE ME A WRITER –PROF. CHUKWUEMEKA, IKE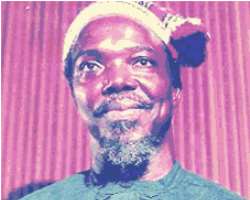 A foremost Nigerian writer, Prof. Chukwuemeka Ike, has disclosed how his schoolmate and friend, Professor Chinua Achebe, inspired him to write. He disclosed how Achebe wrote a novel which challenged him to write, and which enabled him to gain international recognition as an accomplished writer and author.
Prof. Ike, who is the traditional ruler of Ndikelionwu in Anambra State, told Daily Sun recently in his palace that Achebe and the late Christopher Okigbo were his friends and that they all developed their creative writing skills in their secondary school days at Government College, Umuahia.
Disclosing why he chose prose instead of poetry, Ike said 'Christopher Okigbo, one of the best known poets from this part of the world was my classmate at Umuahia. We all went through the same experience. At that time, we were taught poetry. Christopher took to poetry, Chinua Achebe took to prose, while I took to prose and short story writing.''
How I started
I started in secondary school at Government College, Umuahia. We had brilliant, teachers. Some of them were into writing. There was an Australian, Mr. Charles Loh, who was a Playwright. There was a play he was writing, which he wanted us to help in advancing. He encouraged us to write poems.
There was a game we played, an attempt to let us know how to relate with girls. He once brought female students of WTC Umuahia to play with us, thereafter we had a social evening on a Saturday. The following Monday, Mr. Loh came up with a poem. It was really a fantastic poem which recorded the terrible things that happened when students interacted with girls.
Why I chose prose
I think novels and fiction give me wider scope to develop what I wanted to write on. At that time, we were taught poetry. Okigbo took to poetry; Chinua Achebe took to prose, while I took to prose and short story writing. By the time Achebe, a very close friend, left us and wrote a novel, I was challenged that if he could write a novel, I too should be able to do it.
Message
I prefer subtle and direct messages. I choose a target group. I have tried to do many things at different times. I have tackled young people to show them where they are going astray in their behaviours. I have also addressed excesses of adults in society.
Essentially, I focus on the Nigerian society specifically. As a writer, my concern is for a better society. My novel The Search mirrors Nigeria's political life of forty years after independence. I also address issues like rotational principle, ethnicity, military coups, the change of government and so on. But my choice of topic varies from time to time.
Block
There are times I sit up to write and the thing does not come. What I normally do is to stay there; but if it does not come I would go. For example, when I was writing The Naked Gods, it became a problem to put and end to it. One day I was going on the road, because my wife was worried about my driving. This is because more ideas were coming to me, and I just parked the car somewhere along the road, got my biro and paper to write. Most times in my sleep, I feel the muse and I would wake up to write. Sometimes in the middle of the night, ideas would come from somewhere and I would get up and write it on paper before going back to sleep.
Research and writing
For example, before I wrote Conspiracy of Silence, I did an extensive research. The novel mirrors the concept of fatherlessness in Igbo society. there exists a traditional practice which enables a girl to bear a child without being married.
sometimes families ask ladies to stay and bear children for the family. These are women who want to satisfy their biological functions. They do not want to be under any man, so they arrange for men to impregnate them. I got concerned about all these particularly the children who are being produced through such relationships.
A particular girl who was doing her youth service, once told me that she doubts whether she could ever get married because when men come her way, they usually demand to meet her parents, but she does not know who her father is. So I decided to engage in this research to check this and possibly eradicate the practice in Igbo society.
Format in writing
I usually decide how I will tell the story and the format to use; most times I create human beings, determine their height, and create the environment in which the actions will take place. In writing Conspiracy of Silence, I got all these things mapped out and Rockefeller Foundation gave me a grant to travel to Italy. I have been there on a long vacation before. I spent one month there and later returned with the script.
Most challenging work
Each one has its own challenge and I do not know which one I like best. All of them are precious to me.
My works
The published ones include Truth for Supper (1965), Naked Gods (1970), Pot house Will (1973), Sunset At Dawn (1976), a historical novel about civil war. In 1980, Chicken Chasers and Exopo 77, both came out the same year, The Bottled Leopard (1985) came up, Our Children Are Coming (1990), The Search (1991). I published Conspiracy of Silence in 1991 to mark my 70th birthday, Truth Forever, my latest novel came out two years ago.