"ghana Jollof Is A Gift At The Most Difficult Time Of My Life" – Diji Aderogba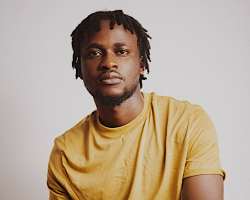 Diji Aderogba was watching Big Brother Naija with his mum and sister the first time Ebuka talked about Ghana Jollof, the Showmax original comedy he recently directed. While that felt good, the reaction from his mum and sibling made him appreciate the moment more. Friends and colleagues would later join in on the celebration. "There is always one person somewhere that when they see it on TV, they go on my Instagram, WhatsApp or Twitter to tell me," he says. Aderogba's career feels like a communal project powered by his dedication to the craft, cheerleading friends and family, and timely opportunities from industry leaders. Ghana Jollof is the biggest one yet. In this exclusive chat with Showmax, he tells us how it all happened and more.
What drew you to movies?
I think curiosity – more of wanting to know how filmmaking works. When I was very young, I wondered how these guys brought themselves together, how people stayed in front of the camera to act. Who are those people behind the camera? Who are those taking the voices of the actors? Trying to understand the concept of filmmaking made me go into movies.
Tell us how Ghana Jollof happened?
Ghana Jollof came two days after I lost my dad, and, honestly, I didn't put my mind to it. I was like, "Nah, I don't think this is the best time for me to do something like this," because I understood how big the project was. But, after, I thought about it and felt this was also an opportunity my father would be proud of. I told the producer [Basketmouth] that I wouldn't be available for any meeting till I buried my father. One or two weeks after the burial, I traveled back to Lagos, and we got the ball rolling. I think that Ghana Jollof is a gift that came at the most difficult period of my life.
You mentioned your late dad would be proud. Was he supportive of your career?
Yeah, he was. But you know how parents can be when what you're doing is not giving as much as they want, but you are focused on doing it, hoping the universe would be kind and give what you want one day. He was supportive, but he just wanted me to have more financially. Being on a project that made me travel out of Nigeria would have made him so proud, like, finally, I can see what you're doing is paying off.
Is this the first time you've left Nigeria?
For work, yes.
How was Ghana?
Ghana is a country I have always wanted to travel to. It's different from going to Ghana to chill, though. You wake up, go to sets, come back, and prepare for the next day. I didn't have time to enjoy Ghana, but [I did] the little I could. I tasted some of their food. I went to some of their popular places. It was fun, but it was more work.
I look forward to going back when our Naira is good because the exchange rate wasn't really in our favor.
What were you most excited about when you got the script?
I think, going to Ghana. I won't lie, I was excited about going to Ghana and knowing that it's the first Showmax Original comedy show in West Africa. Then the story. It is a comedy, but it is a show you watch and get angry and laugh. You're happy and sad. It is all the emotions. When I saw the elements in the script, I was like, "okay, I know this is huge, but with the right team and cast, we are going to make something extremely good."
Episode one is hilarious. What was the mood on the set during the Kweku and His girl scene?
This is not coming from a place of brag, but episode one is just an introduction. It's funny, but episodes two to thirteen are mad. On Kweku, I knew what I wanted when I got the script. I understood the kind of person he was – he is a lover boy. You know, this hard guy who's soft on the inside. When I got on set, I told him, "This is what I want you to give, this is what I want to show the audience." And I'm sure many people got it because I saw tweets saying, "this Kweku is a dummy lover boy, etc.," and that was the reaction I wanted from the audience. I'm happy the actors came through with that – they understood the assignment. But trust me, you guys have not seen anything!
Why are the central characters, Jasper, Kweku, Romanus and Namo, lying?
[laughs] Honestly, I don't know. Even Namo saying he's going to Germany; I don't know if he went to the Germany. I don't know how to describe them, but you guys will find out why as new episodes drop.
Who among the four of them looks closely like you?
That's Romanus. I'm living with a friend of mine. Last year, I was like, "guy, how far, I fit just come your house for one week?" One week is a year now. When I was shooting that scene on set, I was laughing because this is me. He was watching with me last week; when we got to that scene, I looked at him and he looked at me, and we understood that this is our scenario.
What was directing Buchi and Basketmouth, who have mastered buddy comedy for years, like?
The first scene I shot wasn't easy… it wasn't easy for me and Romanus (Akah Nnani) because we are not used [to them]. You know all of them are comedians, they are used to each other. We, on the other hand, tend to lose it and just laugh. But after a few scenes, I started to understand this is who they are, and they gave me more than I asked for. You guys will see them in episode three. Watch out. Those guys are not normal.
It wasn't easy for me on set, but that's the work. And it is a privilege to direct them, especially Basketmouth, he's a guy I watched on TV while growing up. He's the best guy: friendly, he listened, gave ideas. He helped me throughout the show. He is the comedian; he understands what people want to hear and laugh at. It was really fun directing him and Buchi – those guys are not normal at all!
What should we expect from the coming episodes?
Laughter, anger, sadness and happiness. You guys will want to box some of these guys, especially Romanus, Kweko and Jasper. You will also get to meet more amazing characters, like Juliet, Jacinta, Demirus.
Anger and sadness? It looks like a happy show!
Yeah, it looks, but that's why I said it is more than comedy. When you watch it, you will realize it has so many other elements because some things happen that will get you guys angry and wonder why a character is doing this or saying this. You just want to slap some of these guys," like you don't have to do this!" And from episode one, you already know some of them.