Cuppy And Zlatan Reconcile At His Sold Out London Show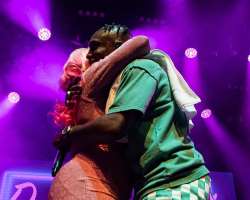 Last night, Cuppy & Zlatan officially buried the hatchet on their much publicized beef in front of a packed crowd at the O2 Arena in London, UK.
Zlatan was headlining his first major concert in the UK on Sunday evening & there was a host of stars in attendance to show the Zanku Dance crooner all their support & give the fans a great show. Zlatan performed his biggest singles & top charting records to an excited audience.
However, the big surprise came when Cuppy came on stage, running to give Zlatan a huge embrace. They previously fell out over wrongful allegations by Davido's aid Isreal DMW claiming Cuppy owed Zlatan money which was not the case.
The two superstars proceeded to debunk stories of any beef between them, and then they performed their smash hit Gelato.
Here are some highlights from the show last night;
https://www.instagram.com/p/CVu9uwYLBrV/