MI IN RUMOURED LOVE AFFAIR WITH KENNY SAINT BROWN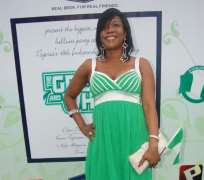 Jude Abaga is the newest rap lord in Nigeria entertainment scene. Popularly called MI, he came into the industry with his talent and dazzled all and sundry with his Kanye West kind of rap.
Meanwhile, his success in the industry is attributed to God and of course a woman who is said to have been fervently praying for his success, that person, according to the rumour is Kenny Saint Brown a.k.a. KSB after he has finished f**king Kel, another sensational artiste.
MI and the younger sister to the entertainment impresario, Keke Ogungbe, were said to have entangled in one of the musical show organized in Lagos. They allegedly said to have stayed in the same hospitality haven together and while they were talking about this and that, they took likeness in each other and ever since, they have become inseparable.
At the moment, KSB, who is yet to revert to her maiden name after the crumble in her marriage a few years back to Eddie Montana Brown, one of the Remedies guys, and MI are in love but they were said to be doing it secretly so as not to drag the attention of the public into it. By law, is that not bigamy on the part of KSB?
Someone needs a lawyer's advice o.