Sammyoung Performs At The Voice Achievers Award 2021 In Dubai, U.a.e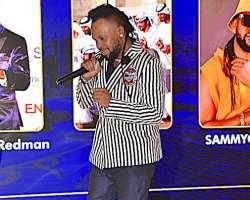 One of the major highlights of this year's 'The Voice Achievers' Award which took place on September 19, 2021, at Intercontinental Hotel, Dubai Festival City, United Arab Emirates is the entertainment by the renowned award-winning Nigerian Musician based in Dubai, SammYoung. He rendered some of his songs and performed a duet with one of his signed on artist from South Africa, TAZMIN. They sang and entertained the awardees and guests while enjoying the dinner. The award theme for this year's ceremony is "Bridging Business cultures- U.A.E. and Africa"
It was the first time that the organizers of the Award chose an Asian country to host the event. The event was organized with the collaboration of 'I Am Africa' and support from 'Dubai KPMG Lower Gulf'.
The founder, Ambassador Elvis Iruh appreciated the support of UAE in bridging the economic and cultural gaps between the country and the continent of Africa. He appealed that the cooperation should expand to every sector of life so that life could become more meaningfull to all humanity. SammYoung was latter given an appreciation award and certificate for promoting Africa music and holding his head high in Dubai and projecting the image of Nigeria and Africa in general through promotion of music and entertainment in general.
On his part, SammYoung pledge to continue to promote African music in Dubai and in extension to the Arab world and appreciated the organizers for recognizing the contribution of his music as a tool of bridging cultural gaps between UAE and Africa.
This year's event further promotes the progress of Africa and UAE by awarding eminent individuals, establishments, and leaders that have raised the standards of proficiency and success and showed extraordinary management skills and authority.
VIP guests, public figures, and diplomats were also present at the award ceremony. Dubai music band, Dibba Al Harbyah,also featured on the award and both put up a fantastic performance.
Sammyoung can be contacted on his social media handles below;
Facebook- sweet rhythms studios
More information on the event can be obtained via: Website: https://thevoiceachieversaward.com/