Why Majid Michael refused to come to Nigeria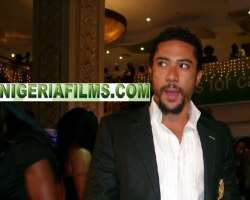 It might take almost forever to convince ace Ghanaian actor, Majid Michael to come to Nigeria again to act like his peers Van Vicker, John Dumelo, Jackie Appiah, and Nadia Bhuari are doing.
Earlier, it was reported that Majid said he won't come to Nigeria, because Nollywwod producers are not professional , but NFC can authoritatively tell you that the story is not true. Majid actually ran for dear life.
The fair skinned star decided to give Nigeria a wide gap after he received death threats on phone from "actors" who felt he was taking the shine off them. Majid was gradually etching his name into the annals of Nollywood last year.
He was just like one of the boys. He easily blended-in with actors and had a thriving relationship with the girls. Some even said he was having one or two things going with Nollywood star, Genevieve Nnaji. He was becoming the first choice ahead of our own stars and he could act to save his life.
Majid stole lots of hearts with Guilty Pleasure and was becoming the number one face on our posters when trouble started for him. He started getting anonymous calls and death threats telling him his days were numbered. Some of the SMS revealed directions from which they came . Some read "you think you can come here and take away our livelihood?, and "Watch your back, your days are numbered". He went home to consult his wife and she told him to stay put in Ghana because she needs him alive.
This has put paid to the talk that he quitted acting in Nigeria because of the quality jobs he was getting which made others envious. How has Van Vicker been surviving? It's because unlike Majid, he doesn't mix that much and he is more of a politician. He takes what is thrown at him, complains less and refuses to be entangled with the girls. But for Majid, he was loud and could outperform almost any Nollywood actor hands.
Other actors who starred in the same movies with him had to make a little extra effort , because he could expose just how much they still needed to learn in terms of delivery.