How much I miss Nollywood – RMD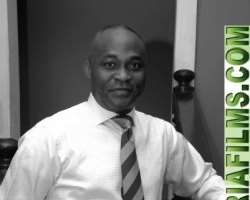 If there's anything, Richard Mofe Damijo, RMD misses most, since he joined the political terrain of Delta State as the Commissioner in charge of Culture, it's his love for the make-believe world. Although, he still finds time to interact with some of his colleagues in the acting profession, the attraction of the stage remains one of the greatest prices he has to pay so far for veering into politics.
The thorough-bred actor who was in Lagos, last week, where he represented Governor Uduaghan, at the unveiling ceremony of the third edition of the National Comedy Awards, said "I miss the acting profession. But I still find time to mentor a lot of the youths and interact with many actors. I have resolved that at least once in a year I will climb the stage to perform."
"I am not just an actor, but I'm a man blessed with several talents. Besides acting, I'm a playwright, poet, publisher, lawyer, entrepreneur, and most recently a politician. "Acting is the medium which I used to define myself. I have my hands tight on so many things."
While expressing his gratitude to Governor Uduaghan for providing him the platform to serve his people, RMD posited that Delta state is the home of comedy in Nigeria.
He also expressed his gratitude to Mr. Opa Williams of Virgin Promotions for his contribution to development of the comedy industry.
"Opa Williams has done well for the industry and I'm very proud to be associated with what he has done to uplift the comedy industry "
The organiser of the yearly awards, Opa Williams, better known as the father of comedy in Nigeria said, "Taking Comedy Home" is the theme of this year's awards.
According to him, about ten categories of awards will be given out to deserving practitioners.
The third edition of the Comedy Awards holds in Asaba, the Delta State capital on August 27.