Opa Williams, HiTV Comedy Challenge Final Holds In Lagos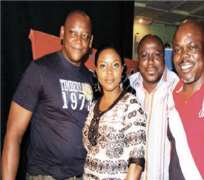 AFTER a challenging three-month search, the nation will on July 25 at Tribeca Club, Lagos, usher in the new kid on the block in the laughter business as Opa Williams' National Comedy Challenge grand finale holds.
The talent hunt that saw over 5, 000 budding stand up comics participating in six regional competitions in major cities across the country since March this year, produced 14 finalists that will slug it out for the grand prize of N1.5 million and a brand new car.
A statement signed by Williams' media company, Media Image Managers, revealed that a panel of judges made up of seasoned comedians, journalists and practitioners in the entertainment industry had been set up to handle proceedings on that day.
Sponsored by MTN with HiTV and AIT as media partners, the comedy challenge finale will be a mini show as notable comedians will entertain the live audience in an evening that promises to be fun.
Comedy merchant, Williams, in the last decade and a half, has turned the laughter business into a multi-million naira business empire and in the process discovered talented young Nigerians that have become household names in Nigeria and in the African region as well as Europe and America.
With his flagship comedy show tagged Nite of a Thousand Laughs; Williams opened the floodgate of what has become the Nigerian comedy industry. And with the National Comedy Challenge, Virgin Leisure Company, producers of the show, hopes to take comedy to another height. "This is the biggest talent show ever in the nation's entertainment industry and the fact that it is a comedy talent reality show, made it the funniest in the history of all talent shows," Williams said in the statement.
He took a walk down memory lane to when the whole comedy initiative began. "The success of the brand (which debuted in October 1, 1995) is most evident in its pivotal role in building the comedy industry in Nigeria. Nite of A Thousand Laughs is unarguably the flagship of all comedy shows in Nigeria and in the African continent. Through the dogged effort of some group of young people in Virgin Leisure Company, we have been able to build a brand that has not only stood the test of time, but has become a reference point in Nigeria's comedy industry, for that we are humbled and proud that it is a Nigerian brand."
The execution of Nite of A Thousand Laughs is usually timed to coincide with national holidays like independence, Christmas, New Year, Workers Day and Valentine's Day.
"And now Nite of A Thousand Laughs shall be 15 years this year, so we have decided to do something to mark our 15 years of bringing laughter to the homes of millions of Nigerians. It is pertinent to note that 90 per cent of all renowned stand-up comedians in the country had their breaks from the event. Majority of today's top comedians were at one time or the other auditioned before getting the stage opportunity. The list is endless; from I Go Dye to I Go Save, Basket Mouth, Teju Babyface, Tee-A, Julius Agwu, Gbenga Adeyinka the 1st among others, Nite of A Thousand Laughs gave them the first break of their careers that have shot to monumental heights."
It is as a result of this he created a discovery platform that will further expand the players' base and open the gate of limelight for others who are good.
"To this therefore is the objective of the talent hunt known as National Comedy Challenge," Williams submitted.
The hunt was held in Abuja, Port Harcourt, Benin, Calabar, Enugu, Ibadan and Lagos with the grand finale holding in Lagos this July.
The 14 regional finalists were determined in what could pass for the nation's first comedy reality show by the judges' points, live audience voting, and TV audience voting via SMS. The aspiring comedians were judged by their creativity, stage command, appearance and delivery.
Winners in each of the cities walked away with N150, 000.00 cash prize while the national champion goes home with N1.5 million naira cash prize and a brand new car. He/she will be eligible to participate in other comedy/musical shows organised by Virgin Leisure, especially Nite of a Thousand Laughs.