Who has seen Madam Patience Ozokwo and Chinedu Ikedieze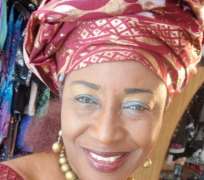 SOMEONE who knows the motherly actress, who is a quarrelsome mother-in-law in most Nollywood films, Patience Ozokwo, must help us get to her fast. Mama Gee, as the highly acclaimed actress is simply called, has just been named as one of the distinguished Nigerians that will receive the national honours award. But someone close to the secretariat hinted that the National awards secretariat is strongly in need of her citation ahead of the award ceremony. Mama Gee can even contact us should incase she is not sure of how to get her correct citation across. But someone should tell her that we forbid flashing on our phones… after all she wan become Member of the Federal Republic (MFR).
Though we are still trying to confirm because the name we saw was mis-spelt, but congratulatory message has been pouring in for the 'big boy' of Nollywood Chiendu Ikedieze (aka Aki) since one waka pass quirked that he, too, has been named as a recipient of the national honour award. They say Aki, a graduate of Mass Communication from the Institute of Management Technology (IMT), Enugu, had to switch off his phone because of the barrage of calls and text messages to him. Anyway we have since reached out to Chief 'Edu' as Aki is called for short to switch on his phone because as a Member of the Federal Republic, he is certainly going to be on the call list of those who presently occupy Aso Rock. Who knows, they might ask him to supply acting! Ha-ha-ha-ha-ha....

Chinedu Ikedieze