N6M Fraud Rocks Sapele Athletic Club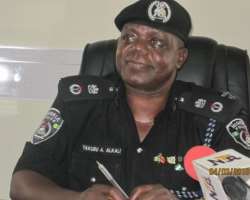 PHOTO: DELTA STATE POLICE COMMISSIONER, ALHAJI YAKUBU ALKALI.

ASABA, July 05, (THEWILL) - The Management of the Sapele Athletic Golf Club, Sapele, Delta state is currently engulfed in a N6 million naira fraud.
The money it was learnt were donations made to the club by the State Ministry of Youths and Sports as it did to the Warri Club in support of sports development.
It was reliably gathered that the matter presently being looked into by its patron, the royal father of Okpe kingdom – Orodje I. Gen Felix Mujakperuo (Rtd).
Close sources revealed that the discovery was made by a club executive with political appendage to the State Government at Asaba who disclosed that Warri Club received its donation as well as Sapele Athletic Club based on an earlier promise made in that direction by the State Government.
Investigation reveals that the N6 million (unknown to the club executive) was received by operators of the Golf section who decided to hush the news and diverting the amount into a private account instead of the club account at First Bank, Sapele.
It is on record that the Sapele Athletic Club is the oldest club in Nigeria as it was founded in 1880 before Ikoyi Club, Kaduna Club, Benin Club and numerous others across the country.
Apart from doubts being raised in the procurement of the cheque, the process of collecting the amount and keeping sealed lips about it to the Club President and other executive members has sparked off a lot of a row between the leadership and the perpetrators of the fraud.
An anonymous bank source has however revealed that the amount in the bank account has depleted as the sum of N2 million has been disbursed surreptitiously to Ministry officials to keep mum over the donation, while a large chunk of the amount has passed through the hands of some members described as belonging to the Cabals in the Golf section.
Eyebrows are being raised by top club officials over the issue as they described the act as dubious, explaining that the club's constitution does not permit any section of the club to withdraw more than N2000 unless it passed through management.
However, this unexpected and shocking discovery has opened a new window into the seemingly abandoned case of the illegal sale of the club's generator without due process to the Life Flour Mills Sapele by some management staff of the club.