I'm too shy to act in movies – Jonathan Murray-Bruce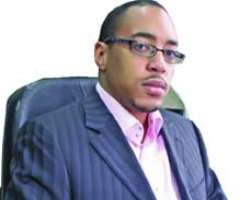 The Murray-Bruce family has always had passion for entertainment. From musical concerts to beauty pageant and now to cinemas, they are a force to reckon with in Nigerian show business. But in spite of their achievements in entertainment, not a few would believe that the family is yet to produce a musician or an actor. However, Jonathan, first son of Mr. Ben Murray-Bruce, would not mind breaking the code, and become a celebrated Nollywood star. He opens up to Blockbuster on why he shied away from acting. Excerpts:
How it all began
The business idea began with my grandfather, Pa Murray-Bruce, who was a very strict and firm business man. He raised the family quite well. He made sure that all his sons passed through St. Gregory College and attended some of the best universities abroad.
The Bruces and entertainment
The whole entertainment thing started with my father, Mr. Ben Murray-Bruce who wanted to have a good quality entertainment in Nigeria. He started with concerts and brought international musicians like Shalamar, Kool and the Gang, etc. to Nigeria. Later, he expanded and created Most Beautiful Girl in Nigeria which produced Agbani Darego as Miss World in 2001. It's a milestone. My father then expanded into radio and television and followed that with shopping malls and cinemas. So, as we expand, we bring new forms into Nigerian entertainment.
Influence
My dad influenced me a lot. He always encouraged me to get into business. He ensured that all of us went to good schools and become successful members of the society. I keyed into the advice he used to give me. I have a degree in Business Administration from Chamean University in the United States which is known for good business and film programmes. After graduation, I wanted to go into films but dad told me business first, film career later.
I've paid my dues
I see myself as a serious person. Some people say I look quite serious. I didn't just start today. I began as far back as 2005 as a programme officer in Silverbird Television. I was on the job for about two years before I applied and was made the General Manager, Silverbird Cinema, Lagos. I went for training in Las Vegas and came back to work as General Manager of Silverbird Cinema for three years. I have now been promoted General Manager, Lifestyle Store.
The Lifestyle Store
The Silverbird Lifestyle Store is a one-stop shop for everything lifestyle including movies, CDs, books, salon and spa, among others. The Silverbird Lifestyle is a growing brand name. Right now we are in Lagos, Abuja and Port Harcourt. In future, we'll expand into all the shopping malls that we are building. Silverbird Lifestyle is already in Kenya and Ghana. Our products are the best. We stock music, movies and books that are in demand. The salon takes care of women. At the spa, you can do manicure, pedicure and get massaged. We offer quality services. We are friendly to our customers and that's why they keep coming back. We have a supply chain and make sure that our prices are competitive. The store is for everyone. We don't have a particular class in mind. We cater for every class. Our prices are stable all over the country.
Nice being a Bruce
In the United States, nobody knows my name. I'm just another guy off the block. But here in Nigeria, people recognize me. The name, Bruce has opened doors for me. It's quite nice.
Entertainment is my life
The Bruces have always had passion for entertainment. We are doing something that we like. We are the leading entertainment company in Nigeria. Silverbird has always been a part of my life. I grew up with Silverbird. It's part of my story. So, I have a vision to make this company grow. I want to expand and make it better. I want to see the Silverbird Group go global. I dream of Silverbird in Las Vegas. I want to expand across the oceans, have branches in US and Europe.
My love for films
I've always loved films. When I was young, I said I wanted to be an actor. But as I grew up I found out I'd rather be behind the camera than be an actor because I consider myself a shy person. Yet I do love films and television. My favourite actor is Denzel Washington.
How I relax
I relax by reading good books. I have read the Bible from cover to cover. I also watch good films and often hang out with friends.