When Charlyboy dies…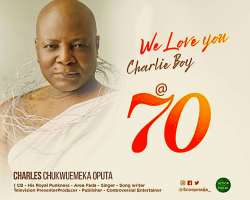 His amazing energy, notwithstanding, all mortals will go the way of eternity; so Charlyboy too. This is an unwanted reality.
One day, Charlyboy will begone. At that time, people will pay tributes to the dead; that time, a new light may shine across our faces to realize that there was once a voice in the wilderness and in the bundu - a lone voice left to shout until it got shrink or dwindled.
When Charlyboy dies, we will realize that like John the Baptist, emancipators are remembered only after they are gone. They are remembered when we realize the vacuum created by their absence.
When Charlyboy dies, our senses will return; that point of reality that selfless people have all gone. We will yearn-yearn for advocates, social engineers. We will find none.
When Charlyboy dies, widows, orphans, and jobless youths will lament his exit. The artists will sing incongruously for the industry will be losing a pillar, a crusader, a pioneer and a votary.
When Charlyboy dies, there shall be absolute quietness. Silence...hush everywhere. That usual intelligent noise will go quiet. Protest shall turn to begging, and guts shall become fears.
When Charlyboy dies, Aso Rock will bluster. 'Our tormentor is finally gone,' they will say.
When Charlyboy is gone, the streets shall become trashy. Fake pastors will take over. God of men will say at last!
When Charlyboy is gone, the tune will change, old-age will remain old-age. There shall be an established distinction between the old and the young. The old will feel aged and weak. There shall be a huge gutter, a conduit so empty.
When AreaFada dies, Area-children will become fatherless, and over 100 years of his reigns will begone. Consistency will return to inconsistency, and doggedness will revert to cowardice. The world will rewind in a flash.
Celebrate Charlyboy while he is still with us, and I pray that his army of supporters and the students of 'Charlyboism' will take over the streets. May his fight for our emancipation not be in vain. We can benefit from this lone voice today, not tomorrow. No need to procrastinate.
As for me, I have benefited from this lone voice, and I remain grateful for the impacts the voice has created in me.
Congratulations to a lone voice that has survived 70 years despite societal inhibitions. Happy 70th birthday to the AreaFada.