AUSTRALIAN CABINET SHUFFLE FOR STABILITY SAYS NEW PM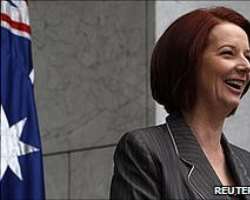 The Australian Prime Minister, Julia Gillard, has announced a new cabinet which focuses on stability.
Key posts at the treasury, finance ministry and resources ministry remain unchanged.
Foreign Minister Stephen Smith also keeps his job but takes on the trade portfolio as well.
Former Prime Minister Kevin Rudd was not made a minister but Ms Gillard said he could be if her Labor party wins the next elections.
The new Deputy Prime Minister Wayne Swan remains treasurer and Martin Ferguson stays on as resources minister.
The two posts are central to the challenging issue of a proposed 40% tax on mining, something seen as contributing to Mr Rudd's sudden downfall last week.
"The premium that I have put in these new ministerial arrangements is on stability," Ms Gillard told reporters.
"If the government is re-elected, I will be very delighted to welcome Kevin Rudd into the cabinet in a senior position," she said.
Former Trade Minister Simon Crean was appointed to take over the new prime minister's former portfolios of education, employment, workplace relations and social inclusion.
Surveys taken since Ms Gillard took the prime ministership last week show a jump in popularity for the Labor party, which could call an election any time from next month.