ZONING: JONATHAN MUST QUIT PDP IF – AMB. KWANDE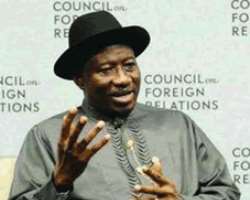 President Goodluck
Ambassador Yahaya Kwande has said if President Goodluck Jonathan is interested in contesting the 2010 elections, the option left for him is to leave the Peoples Democratic Party (PDP) for another party.
Speaking with Daily Sun in Jos, Plateau State, he said if the President wants to remain in the PDP, he should be honest with the party's zoning agreement. Excerpts:
One year is not small for Jonathan to make an impact.
'Yar' Adua's death has not changed anything. Only people change but Nigeria remains. We may change the political actors but the country remains Nigeria. That is one thing Nigerians should be congratulating themselves for. Every part of Nigeria likes the corporate existence of this country. Nobody is talking about breaking away.
'We are only talking about unity all the way through. The death of Yar'Adua did not change anything much about this government. To us, it is the same government that is still ruling. When both of them were getting into government, they must have had an idea of what to do with Nigeria. Even though Yar'Adua is not there, Jonathan should be able to carry on with the government. He has all the power to continue with their perception.
'His continuing with the Seven-Point Agenda is just in line. Even though he may not complete it, he would do his best. Even if he has 10 years, the time will still run out. He will only do certain things and leave the rest. Even if he has a day to exercise power, that day can change this country. It is policy matter. He can wake up to ban or introduce something new and it would affect the ordinary man on the street.
'One year to me is not too small for somebody's impact to be felt. That was why he came up with the things he felt should be done immediately and he is doing them. He has formed his government and introduced some policies. He has travelled overseas and explained his wishes to them and he is doing all what a President has to do in the country.'
Atiku's political friends
'We the Atiku political friends have left the Action Congress (AC) and back to PDP. I left AC about three months ago. I wrote a letter along with some friends to the leadership of AC saying we are leaving the party. 'Obasanjo forced us out of PDP. He did not want anything to do with Atiku. They tried everything and the only thing they could not get was to have Atiku in the street. Obasanjo swore that Atiku would never contest an election because he thought he was God. But he contested the election whether he won or not.
'The atmosphere is now conducive for him to go back to the party and continue with his democratic activities. It is because of his patriotic zeal that he put all he had in life to stop Obasanjo's Third Term bid. We are all back again to rebuild democracy in Nigeria. All of us that believe in him and those of us that think he has something to offer Nigeria are back in PDP to support him.'
PDP will not collapse
'No matter the number of candidates, PDP will not collapse. To think that PDP would collapse because of the bigwigs in the party is another way of underrating the mentality and the quality of ordinary Nigerian man's thinking. If reform is put in place, things will work out.
'From all indications, Jonathan is determined to have a free and fair election. Whether 20,000 people will contest, the people on the streets would be able to sort out and elect only those that are good. The size of those in PDP is nothing. The most important thing is the election. Will it be free and fair? If that is achieved, there won't be any problem.'
Internal democracy
'Democracy starts with internal democracy which is the primaries. If there is no good primaries there can't be any good election. I assure you that it will also be free and fair in the PDP. 'Atiku, Babangida and Jonathan are the only Nigerians who could be interested in the election. When it is left free and made fair, Nigerians would be surprised with the number of people that would come out to indicate interest.'
Jonathan will have to leave the PDP to contest election
'Rotational presidency is PDP affair. It is not a constitutional affair. I wonder why other people would not mind their business and let PDP take care of its affair. It is PDP that made the rule that the presidency should be rotated between the South and the North. The South had it for eight years and the North started having it for eight years when circumstance created itself that the man who benefited from it died.
'The Constitution created the situation that a Southerner who was the vice president is now the one to rule for a year. If you are to follow the rule of the PDP and you want to be fair and just, then the best thing is to allow the North finish its balance of four years. As soon as they finish, it can shift again to the South.
'We are only saying all these if PDP is the party winning the election. Another party can take anybody from the South in 2011 and he would win an election., Why should you think that it is only PDP that can win an election? The ANPP or AC can select Prof Pat Utomi or Bisi Akande or anyone else and he would win the election for the South. Nobody can stop him because it is not a constitutional matter.
'Zoning is a peculiarity agreement for the PDP. If Jonathan wants to contest election in 2011, he can, but on a different party. If he wants to stay in the PDP, I am sure the man is honest enough to say let us leave this agreement to continue. I do not see any complication in this.'
Electoral Reform
'Electoral reform should come out despite the rancor in the Houseof Representatives. It should not hold the nation to ransom in having an electoral reform before the 2011 election. It is their internal problem, it is democracy at work. They should be left alone to sort themselves out. I am sure an electoral reform would come out.'
Generational change
'When I hear people talk about need for a generational change, I laugh. There will be no time when it would be the young men or the old men that would be ruling. Like any other county of the world, the young and the old will be ruling the country together. It is for the electorate to decide who they want to be the president at a particular time.
'You cannot take a scissors and cut off the older people and say now, it is only the young men that should rule the country. For instance, there are many young men in the House of Representatives but we also have the older people and they all work together.
'We need the experience of the older people and the energy of the younger men for Nigeria to move forward. Which country in the world can you point that it is only the young or the old people ruling? Even the United States of America, though the president is young but
in his cabinet are old people assisting him in their own way.'
INEC chairman
'The choice of Mahmud  Jega as Independent Electoral Commission (INEC) Chairman has 90 per cent support of Nigerians The appointment is proper because Nigerians have been crying that they want a free and fair election.
'Prof. Attahiru Jega was among those that produced the Uwais Report. People know him to be straight forward, energetic and radical. He has the knowledge of what to do for peace to reign in the country. He had held offices where he distinguished himself. As chairman of ASUU, people watched hisactivities, utterances and assessed his patriotism. They seem to be happy with his appointment.
'His appointment does not stop the President from coming from the North or anywhere. It is not a PDP thing. Let me assure you that the PDP of now is different from the PDP you used to know. There are men of integrity in the PDP.
'We did not go back there to help people misbehave. We went back there because we have our names and integrity to protect and because we have children and our grand children coming after us. Nigerians will see the difference in the primaries.  If the primaries is free and fair, the general elections will be so. There will be no appointment of candidate because he is the son of so and so.'
Eleven years of democracy
'In the 11th year of democracy in this country, we will say Nigeria has tried. The country has remained one indivisible entity. We are freer as citizens than any other time. There are more newspapers, more universities and more hospitals than any other time.
'The only snag was during Obasanjo's era when many unpalatable things were brought in. It was the time people misused power. I am happy today that things are being sorted out. Here in Plateau State, those that were elected but cheated got back their seats after one or two years later in court. So people are learning. If you know that you can win an election by force but that it can later taken away from you, you will not bother yourself.'