EMBARRASSING BARGAIN STORE IS OPEN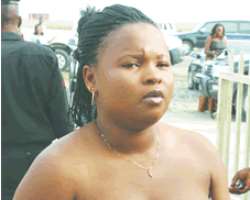 Too bad
During cross-examination, your lawyer kept jumping out of his seat but the grand jury was not impressed. That was why most of your arguments were overruled. Haba, the blind can see that you are almost nude! Didn't mummy tell you there's a thin line between decency and nudity? This is an obvious disregard of this provision and you have been sentenced to Obasanjo Farms in Ota. We were earlier informed that Baba needs more hands to
help with weeding.
Guilty
Section 123, subsection 234 of the Style Criminal Code and the federal style act or regulation say that 'Revealing a cleavage and other parts of the body indiscriminately is an indictable offence'. This court hereby pronounces you guilty. You
are fined N1million..


.


Something's smelling
How dare you open your goal posts to every Kaita, Kaka and Behrami? No wonder we are all seeing red in the courtroom. If not for the timely intervention of our road safety corps, we wonder how many road accidents you could have caused. You ought to know better than sitting carelessly in public. Pay a fine of N800, 000.


Zebra crossing
Mummy, why on earth should you continue to make our lives miserable? This your skin is as good as the Apapa expressway. In fact we were told that we now have a Zebra crossing on that road as we can see them all over your skin. We were told those zebra designs (oh sorry, stretch marks) came from the combination of Mercury, Tura, Movate and engine oil. We hereby refer you to a
skin specialist at LUTH and fined
the sum of N900, 000.


Soccer balls
Are we making a mistake here? Our investigation shows that you left the guys restless and panting with that pair, just like Maradonna became a ball boy during the Nigeria-Argentina match. Well, with all the authority vested in this court we hereby order you to wash the plates used by almajiris in Sabon-gari area of Kano. You will also feed, bathe and brush their teeth every morning for the next six months. This would be done
under the strict supervision of the
Council of Ulama
of the state.


Aunty Kenny!
Ah! Aunty Kenny, did you just hurriedly pick your beautiful curtains at home and wrapped them round you? We know you came out with a first class in the university of style, but big sis, you got it wrong this time and you got us flabberwehmled and overgasted. But based on your past conduct, your lawyer asked for clemency.
So go and 'sin no more'.