KING SUNNY ADE OPENS UP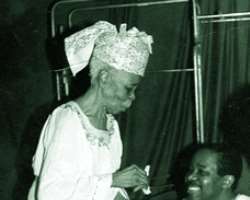 KSA's mother feeding her son
Princess Maria Adeniyi Adegeye, mother of juju music maestro, King Sunny Ade passed away penultimate Friday at the ripe age of 112. The woman the musician described as 'a rare gem' was the rock of Gibraltar upon which KSA's life and career were anchored, more so as he lost his dad so early in life.
Hear Sunny Ade: 'My mother is a rare gem among women. She nurtured me into manhood. When I lost my father at the tender age of 8 she devoted much of her time for me and showered me with love. Her attention and devotion to me helped a great deal to cushion the effect of the sudden and tragic death of my father.'
However, not many knew that like all mothers then Mariam had vehemently opposed her child's choice of career until a strange incident occurred at their Oshogbo, Osun State home one hot July afternoon.
As a tribute to the deceased, Blockbuster digs up an invaluable King Sunny Ade - An Intimate Biography written by TOSIN AJIRIRE and published in 1989, and recaptures the story of Maria and her famous child for the enjoyment of our readers. It is strange but true.
Sunday (now KSA) had just returned from school and was busy pulling off his uniform. His mother, Maria sat quietly on one of the cane chairs in the room, watching her child undress. As she sat there, pondering, a fantastic drama of her little child's success as the family first Surgeon or Attorney suddenly unfolded before her. First, she saw Sunday, clad in the white immaculate garment of the medics, a stethoscope dangling on his neck as he attended to a patient. She smiled.
Then, another picture of Sunday donning a black gown with a grey wooly wig standing proudly on his head. There, before her very eyes, was a court in session. And her beloved child, of course, was the Attorney quoting copiously from the statue books to the admiration of the presiding judge. At last, Sunday, her beloved child was a Barrister-At-Law. Once again Maria smiled. It was a beautiful smile. And her eyes gleamed with contentment.
'If only God would…,' Maria mumbled to herself half-heartedly. She was still deep in her reverie when Sunday's persistent call of 'Ma'ami' jolted her back to reality.
'Yes, my child what's the matter?' Maria asked in a solemn voice, filled with agitation.
'This year,' began Sunday who had now changed into his house wear, 'I'll complete my elementary education…'
'Yes, I know,' Maria cut in impatiently.
'After completing my primary school, Mama, guess what I'll do?' Sunday asked with a smile.
'What?' she inquired ignorantly.
'Mama, you know I love I.K Dairo and Franco. So, I'll join one of their bands,' Sunday explained with child-like innocence. But if the boy was excited, his mother was not. Rather she was disappointed, worried and agitated, agitated about the future. Maria's smiling posture was suddenly replaced with a frown. And she looked aged within seconds. Gently, she rose from her seat and stood there arms akimbo, a million thoughts running riot in her head.
Once again, Sunday had raised a topic she considered an anathema in her home: Music. The lively charter between mother and child had been suddenly replaced with a silence. There was a distinct tinge of mystery in the stoic silence but neither of them knew. Fate, that uninvited arbiter in the affairs of men, was at work. Many times Sunday had raised the issue of a career in the murky water of show business before her mother; many times she had explained to him that a prince had no business with begging. To her, musicians were nothing but beggars, poor beggars that roam the streets for food.
Now, what else could she do? Maria had asked in her heart. On several occasions she had taken the pain to explain to her child that his ancestors only wore the beaded crown and never loafed about, singing in praise of mortals. Now what would people say when her lovely child, a prince suddenly becomes a minstrel? Definitely, tongues would wag. And the town would become abuzz with mocking stories of shame. People would laugh behind her back, poke fun at her and deride her person. No, not on her life, Sunday would play no music.
When this went on in Maria's mind, a different thought was dancing gleefully in Sunday's head clamouring for attention. True, he had had dreams. Several nights he had dreamed, he dreamt masturbating dreams of success and fame in the sparkling world of show business. Besides, he had heroes, successful heroes. He had always adored talented artistes like I.K Dairo. The richness of Dairo's composition and the harmony of his songs made him drunk. Franco's (of the popular O.K Jazz Band of Zaire) mastery of the guitar greatly inspired him, and of course, Tunde Nightingale's sonorous voice and popular appeal to audience dazed him too. For young Sunday, the shimmer and the sparkle of the dazzling world of music were simply too alluring, too alluring to be resisted.
A thousand times Sunday had explained all these to his mother and a thousand times she had shown her disapproval. His last encounter with her was particularly demoralizing. On that day, Maria had told him bluntly that musicians were wastrels and sozzled elements whose roles in the society would only be chronicled in passing on the mundane pages of history.
This afternoon was probably the day of reckoning when he would be keeping his date with fate. Maria finally broke the long silence with a cough. She coughed a bit and sighed. She then made the shattering declaration. 'Have you forgetting the promise I made to your father at his last hour? Sunday, do you want to be a lay about without any future? No, my dear, what you need is a sound education, not music,' Maria's voice was as heavy as it was sad.
Although angry, Maria did not show it. She merely patted Sunday on the head and went back to her seat. Sunday was so dumbfounded by Maria's reaction that he could not even utter a word in protest. Rather than speak, he sat down quietly on one of the chairs, brooding. His eyes were misty with tears. Again, Sunday saw his dream cascading down the valley like a boulder of rock, shattered into smithereens. And he was sad and angry. The fact that his mother capitalized on his father's last wish particularly angered him. But in spite of his anger, out of respect and affection for his mother, Sunday remained silent. He seemed unruffled and unperturbed. To the ordinary eyes, Sunday was obedient and submissive. He seemed to have accepted his mother's decision as the final.
Meanwhile, a constant tune continuously hummed in Sunday's head, reverberating in his ears: Music was in him and he loved it. But he would never again broach the issue before Maria. Never! Henceforth, every business between him and music shall be conducted in secrecy.
'Okay, Mama, can I have my lunch? I'm starving,' Sunday asked in a singing voice. It was the first request he would make since Maria gave her unfavourable verdict. Before answering, Maria took a closer look at the boy and shook her head in pity. She then hurried out of the room and headed for the family garden situated at the back of the house. The garden had on its rich soil assorted species of vegetable. But on that day a strange incident happened.
At the northern end of the garden was a tree that laid down flat on its trunk, rotting away. It had been lying dead on the dark humus soil for about 10 years. And everybody seemed to have forgotten about it. But this afternoon, it commanded attention. Since only the cluster of vegetables around it was ripe for plucking, Maria walked slowly to the dead tree humming a popular song. Gently, she bent down beside it and started plucking some vegetables. But she had hardly plucked a handful of 'tete' when a ghastly wind started blowing in the garden.
Within a few seconds, the dead tree suddenly sprang to life. It rose steadily from its lying posture and stood up erect like a pylon. Maria was astounded. She was completely shocked beyond works. For a moment she stood on the spot aghast, gaping sheepishly at the rejuvenated tree. Later, when she regained her composure she raced back into the house at neck-breaking speed to inform her neighbours about the queer drama she had just witnessed. Surprised, the neighbours too rushed to the garden. On seeing the strange tree, a sudden look of incredulity plastered their different faces. Each of them soon went to town with the story and Maria's home instantly witnessed an upsurge of people who wanted to take a look at the mysterious tree.
Later in the day, when all the visitors had gone, mother and child sat down in their room for a serious talk. Maria, already bamboozled by the strange drama, declared in a somber tone, 'Sunday, you're a strange child. This afternoon I only had a little argument with you and strange things started happening. It seems that prophecy about you becoming famous is true after all.'
From that day, Maria's opposition to her son's choice of career somehow began to ebb. And Sunday eventually went ahead to pursue his dream that has now made him a world famous King Sunny Ade.