Police Called In As Suspended Law Makers Go To Court Even Journalist Were Brutalised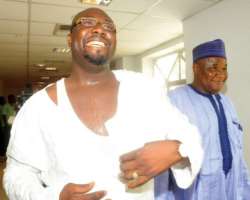 After the crisis at the house, police officer visited the home of Austin Nwachukwu to arrest him at the request for the Speaker of the house, Dimeji Bankole. He is been accused for stopping motion to suspend members of the progressives and eventually making use of Canisters of tear gas inside the chamber.
Which led to the fracas where Ms. Doris Udoh was slapped by pro Bankole lawmaker Hon. Idris and her cloth torn by Larwase Herman Hembe before she was roughly seen out by security men. All in the presence of Speaker of the house.
Also NEXT reports that journalist were humiliated during the showdown: Security agents physically attacked journalists yesterday for covering the fighting that erupted at the House of Representatives, detaining some and threatening to brutalize others.
Two reporters with the Nigerian Compass, a national daily, Wole Oladimeji and Julius Toba, were shoved, slapped and detained by police and security guards at the national assembly amid the confusion that followed the scuffle of members of the House of Representatives. Mr. Oladimeji, a long standing federal legislative reporter, was repeatedly struck until his dresses were torn while he attempted to stop the guards from seizing the camera of a Vanguard photojournalist, Gbenga Olamilekan, who had taken pictures of the fight within the chamber.
Dino Melaye, whose cloth were torn is not backing down informs they were be challenging their suspension from the Lower chamber at the courts and maintains "The resultant exchange of shouting matches between the pro-Bankole group and the progressives escalated into fist cuffs turning the lower chambers into a boxing arena,"
"Even though I was battered and beaten to the extent that my wears were torn in shreds, I will not give up the fight against corruption until the perpetrators are brought to book in order to allow the hallowed chambers regain its lost glory", he added.