RADIO PERSONALITY, TEMITOPE NIKKIE OLULEYE'S NEW DEAL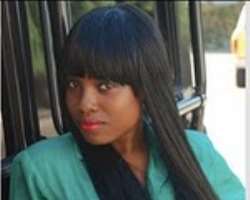 Kwara State based Radio personality, Temitope Nikkie Oluleye, the America returnee beautiful lady who anchors the T-Show on Midland FM 99.0 on Tuesdays is set to make another relevance in the fashion world.
The well-expressed and vibrant radio presenter who has become a force to reckon with in the radio presentations and programmes, www.nollywoodgists.com gathered has just launched a blog where all kinds of fashion icons and items are displayed for global audience.
The blog simply called http://bechicandfab.blogspot.com is said to be one of the best blogs that give comprehensive details about fashion and those who dictate it.
Nikkie as the presenter of repute is called also co present an early morning show called 'Monday Morning in Kwara' every Monday. More about her after this timeout.