FOUR KILLED IN ISTANBUL BOMB ATTACK ON SOLDIERS BUS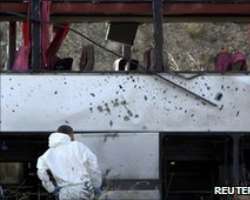 A remote-controlled bomb that hit a bus carrying Turkish soldiers and civilians has killed four people and left at least 12 injured near Istanbul.
The explosion took place when the vehicle was passing through the Halkali district on the outskirts of the city.
No-one has claimed responsibility, though correspondents say suspicion will fall on the PKK Kurdish rebel group.
The PKK has recently stepped up its attacks on Turkish military targets.
The bus had just left a military residential compound in the Istanbul suburb when a roadside bomb exploded, killing three soldiers and the teenage daughter of an officer, local media reports said.
"This is a terrorist attack and the aim of the attack is clear – to create divisions, tensions and despair," said provincial governor Huseyin Avni Mutlu.
A number of seriously injured survivors were taken to hospital and two were in critical condition, he said.
Softer approach abandoned
Suspicion is bound to fall on the separatist Kurdistan Workers' Party (PKK), which has staged a number of bold attacks on military targets in recent weeks, the BBC's Jonathan Head reports from Istanbul.
PKK attacks left at least 11 soldiers dead over the weekend, most of them killed in an assault against a unit on the Iraqi border.
The Turkish military has responded with raids against the PKK, and said on Tuesday that it had killed seven rebels in the north and south-east of the country overnight.
The PKK is fighting for autonomy in Turkey's largely Kurdish south-east and began its armed struggle against the Turkish government in 1984.
More than 40,000 people have been killed in the resulting conflict.
The group is considered a terrorist organisation by the EU and the US.
Last year, the Turkish government announced a new initiative to end the conflict and to address the grievances of the Kurdish minority.
But it never produced the promised package of measures and now appears to have been abandoned.
Last month, the PKK announced it had given up all hope of dialogue with the government and said it would increase armed operations in all regions of Turkey.
The government says it is now reviewing how it confronts the PKK.
There has been criticism of the use of inexperienced recruits in front-line positions along the Iraqi border, our correspondent says.
On Sunday, Turkish Prime Minister Recep Tayyip Erdogan promised to fight Kurdish rebels until they were "annihilated".