Fear Grips Bayelsa Community Over Agip Gas Leakage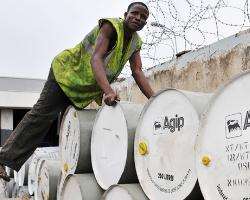 The indigenes of Kalaba Community in the Okordia Clan of Yenagoa Local Government area of Bayelsa State are now living in fear over the gas leakage emanating from a ruptured gas pipeline belonging to the Nigeria Agip Oil Company (Eni) along the Taylor creek of the state.
The incident which occurred on the 18th of May, 2010 has given so much concern to the indigenes as well as neighbouring communities due to the loud sound and the smoky substance that is continuously coming out from a pipeline belonging to Agip.
The pipeline, according to the community leaders was laid three months ago without any indication that it was conveying gas.
The smoky substance from the pipeline has however been attributed to the cause of the fear among indigenes, who suspected the substance may provoke health implications and destroy source of livelihood in the communities in the area.
Already, the Local Government Chairman, Hon. Mike Obolosingha and field workers attached to the Environmental advocacy group, Environment Right Action/Friends of the Earth (ERA/FoEN) have visited the area to ascertain the gas leakage and called on the relevant agencies in the state and Federal level to prevail on the Agip Oil company to move to stop the leakage.
According to the ERA Project Officer and Head of the Yenagoa Office, Comrade Morris Alagoa, the independent investigation conducted by a team of field workers from the group showed that from the point of the gas leakage to the main community road is about 200 metres.
"The community folks, adults and children of both gender were noticed going into the bush or coming out through the same route. Some were seen closing their ears and running when they get to the site of the leakage."
"When at the site of the leakage, no other sound could be heard except the whistling and hissing sound of the escaping gas. Agip should mobilize to the site and put off the gas leakages at the community."
The Paramount Ruler of the Kalaba Community, Chief Idoniboye Nwaila said though the sound of the ruptured pipe is similar to those heard in the past during oil spillages, adding that it was the reason why they quickly informed Agip and the Local Government Chairman.
He said however that after their report, Agip has visited twice, but nothing has been done to ameliorate the situation, "We plead that they do something quick to stop the leakage and the noise from the ruptured part."
|
Article source