PAUL PLAY AND BUKKY WRIGHT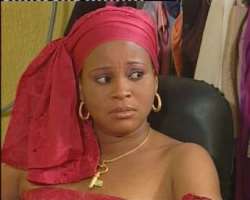 LEAD ACTORS: Bukky Wright, Paul Play IK Dairo, Funsho
Adeolu, Funke Akindele, Opeyemi Ayeola and others.
PRODUCER: Bukky Wright
PRODUCTION QUALITY: Very Good
SYNOPSIS:
Feranmi Oluwa is a love story between Feranmi (Paul Play IK Dairo) and Ranti (Bukky Wright). Ranti meets Feranmi an unemployed graduate by chance through an ugly incidence. Feranmi's fortune soon changes as Ranti helps him secure a contract. Feranmi soon falls in love with Ranti, though Wunmi his girlfriend becomes suspicious of Ranti's generosity and Wonu (Ranti's Fiancé) also has his reservations about the closeness of the duo. Feranmi displays his love for
Ranti shortly after she was hospitalised and diagnosed with cancer of the bone which claimed her left leg. Wonu at this time returns to Abuja to concentrate on his career. Ranti denounces her love for Wonu and soon gets married to Feranmi. As the couple begin their lives of happy marriage Ranti becomes pregnant. Unfortunately her ailment requires an urgent operation which claims her life.
The movie which was shot on locations in Lagos and Abuja employs narrative, climax and anti-climax techninques. Devoid of any dramatic technique 'Feranmi
Oluwa' may be an experiment of the producer cum writer on romantic stories that has no dramatic personae playing any role.
By Taiwo Obatusin