CAMEROON, JAPAN: RUMBLE IN FREE STATE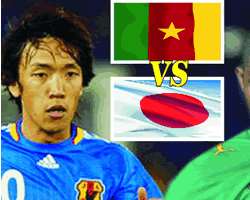 Free State Stadium would come alive today when two giants from Africa and Asia take the centre stage in Group E. Cameroon and Japan will attempt to out play each other to dictate, who leads that group, which also have Holland and Denmark.
Cameroon would aim to regain her place in the comity of footballing nations after her light faded somewhat since country brightened up the world stage at the 1990 FIFA World Cup. Cameroon is not a side to underestimate at the 2010 FIFA World Cup in South Africa. The top African nation in FIFA's rankings also brings Africa's richest pedigree to the finals.
Cameroon has appeared a continental-best five times in the World Cup, and no other African side has yet eclipsed that historic run to the Italy 1990 quarterfinals, though Senegal equalled the achievement in 2002.
However, the team has not managed to advance past the group stage in three finals appearances since then, winning just once in its nine matches. Cameroon lost out on Germany 2006 entirely after missing a penalty kick in the final moments of her last qualifier against Egypt. But the long road to the 2010 World Cup has forged considerable momentum behind what many Cameroonians are hoping is the right mix of players, and a new generation of Roger Millas and Francois Omam-Biyiks.
Boasting one of the strongest squads in Asian football, Japan, winner of three of the last five editions of the AFC Asian Cup, has high hope for the 2010 FIFA World Cup in South Africa – her fourth appearance at the global showpiece. First on the agenda is an improvement on the disappointing showing at Germany 2006, when the Samurai Blue exited at the first hurdle after a 3-1 reverse against Australia, a 0-0 draw with Croatia and a resounding 4-1 defeat by Brazil.
Japan will also be facing her first finals without iconic midfielder, Hidetoshi Nakata. The former Roma schemer featured in each of the national side's games at France 1998, Korea/Japan 2002 and Germany 2006 before hanging up his boots after the latter event aged just 29.
According to Cameroon's Samuel Eto'o Fils: "We have again made people believe in this team. It's a great achievement for all of us to be able to play in a World Cup, especially one in Africa. We are dangerous because we have a good mix of experience, and we have learned to play together."
For Japan's Coach Takeshi Okada: "We are not going to change our tactics because when I set this team's basic tactical approach, it was already done with a view to winning against the world's biggest teams. Our main target in South Africa is to reach the semi-finals."