HAIR, WE GO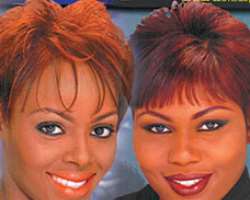 It was a celebration galore at the Golden Gate Restaurant, Ikoyi, Lagos recently when Lady Star International, Nigeria Ltd, celebrated its 5th anniversary in Nigeria.
The company, which has its headquarters in China, started its operation in 2005. The evening was also a time of rewards for all their distributors of the company as they went home with different prizes won through raffle draw.
At the event, Mr. Martins Obiakor, who was Chairman of the occasion and representative of Balogun Weavon Dealers Association, commended the efforts of the company in the pursuit for excellence.
The company showcased some of their new wig collections, among which are Diamond Este Hessie, Obama MichelleI,The New Pola and Dell Nana.
The Managing Director, Harold Wang commended the efforts of the distributors and solicited for a better relationship with all of them and the Nigerian media.