JUNE 12 WILL CONTINUE TO HAUNT US – OPADOKUN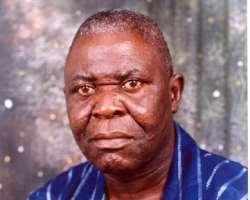 Opadokun
Former chieftain of the National Democratic Coalition and Coordinator of the Coalition of Democrats for Electoral Reform, Chief Ayo Opadokun, in this interview with KEMI OBASOLA speaks on the presidential election of June 12, 1993 among other issues. Excerpts:
What is significant about the celebration of June 12 this year?
Seventeen years after, June 12 is a symbol which represents the very auspicious and remarkable day that Nigerians voted MKO Abiola President-elect. An election, which resulted in the virtual collapse of the Nigerian national dubious device of a Christian/Muslim, North/South geo-divide. It was the first victory of the Nigerian political progressive elite to win a pan-Nigerian mandate. For the first time, the progressive power block won 25 per cent in 29 out of 30 states and even defeated the presidential candidate of the National Republican Convention, Alhaji Bashir Tofa, in his Kano home state. That election was the first pan-African mandate which any elected Nigerian could garner. In the First Republic, the victory that enabled Tafawa Balewa to be prime minister was secured mostly by the votes he gathered from the Northern Region with very insignificant votes from the old Calabar, Ogoja, Rivers Campaign Platform led by late Papa Dapa Biriye and Melford Okilo. The Second Republic victory of Alhaji Shehu Shagari was made possible with very substantial votes from Northern states along with votes from Rivers and Cross River states. It could have led to Nigeria being much more demonstrably united and resolved as a nation, but these multiple victories were shattered and annulled by General Ibrahim Babangida for reasons best known to him. My position is that until that June 12 victory is given its rightful place in the annals of Nigeria's history, our national woes and inability to conduct free and fair elections will continue to haunt us.
What is your view about Babangida's recent call for the immortalisation of MKO Abiola?
It is a crude joke from him. A pretentious joke meant for his selfish, newly configured provocative agenda to run for the presidency again.
Why have successive democratic governments refused to immortalise Abiola?
We will continue to celebrate June 12 as our own Democracy Day. That is a way MKO Abiola can be immortalised. Government has not immortalised him because of the characters who found themselves in office, at the helm of affairs. They are not only callous, they are the same military confederate, military surrogate and military sympathisers. Until a free and fair election takes place, with credible people elected to public office shall Nigeria be seen to do the right thing. Many of those in office would never have been in public service but for the martyrdom of MKO Abiola.