Where Fela got it wrong on child upbringing –Yeni Kuti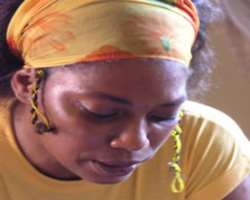 I dropped out of school, yet my dad did nothing Yeni Kuti is the first daughter of the late Afro Beat Legend, Fela Anikulapo-Kuti, and the manager of his properties, including the African Shrine. YK Power, as she is fondly called, was once married to Femi Segun, the son of the famous author of
children's books, Mabel Segun, and the marriage was blessed with a daughter, Rolari before they separated years back. The 50-year-old 'forever-young-woman' was once a dancer in her brother, Femi Kuti's band. One of the greatest opportunities she had to demonstrate the strength of her abilities is the putting together and execution of Felabration, the annual event to project Fela Anikulapo Kuti's heritage. She spoke with ESTHER IJALANA on her family, her ambition, the African Shrine and this year's Felabration among others.
With different works of art I see around here, you must be a lover of art work?
I love art so much, and besides, my daughter is an artist. She draws a lot.
You are almost 50, but you look exceptionally young for your age. How do you maintain this youthful look?
I don't know. All I know is that, I sleep. I try to be happy and I don't smoke any more. I don't feel I look that young.
What did you use to smoke?
Cigarettes.
Why did you stop smoking?
I stopped because I don't want to die.
Do you have a special beauty routine?
Not really. I don't really have any. At night, I wash my face with soap and water. I also plait my hair at night before I sleep. Other than that, there is nothing I really do.
What are your favourite beauty products?
I like and use Black Opal soap. When I go shopping for creams and all that, I buy herbal things. I love things with more natural ingredients than chemicals. I also like black soap because it has herbs. I don't have a special beauty product, but I just like to go for things with natural ingredients.
You are called YK Power. How do you come by that name?
I didn't give myself that name. It's people that gave it to me. I have a friend that used to call me YK Power, he is late now so we can't ask him why he labelled me that. YK comes my initials for Yeni Kuti, and for the 'Power,' I don't know. That my friend was fond of giving people names, and he thought the one that fits me is YK Power. From that one guy that started calling me YK Power, the name stuck. People started calling me YK Power, even though they don't know the origin of the name.
Do you think he added the 'Power' because of your energy and strength?
I believe maybe that is why he called me that. I believe maybe by conviction and the way I talk, let me say that's why he did it.
You are Fela's first daughter and you are in charge of his properties. Fela left many wives and children, how do you manage and handle differences in the family?
Well, I will just say it's by the grace of God. At first when my father just died, members of the family were not that friendly, but now we are. I believe it is the grace of God.
What is the relationship between you and your brothers and sisters?
I am friendly with all of them. I am close to all of them. We call and communicate well.
How is the Shrine doing, is business booming?
We can't complain, there is no light and all that.
Apart from the problems, is the business doing well?
I will say we have our fans who are still very loyal and come around. All I can say is that I cannot complain, I can't say business is booming or it's not. At least, if it's doing as expected, you will see my fleet of cars. I will just say I can't complain.
Compare the Shrine now to when Fela was alive?
I didn't run the Shrine when Fela was alive. The only problem the Shrine had when Fela was alive was that he didn't have management. Fela was always on stage so he couldn't manage it. At that time, Fela lacked a good management system; but now that is in place. We have good and clean toilets, we sell our drinks 24 hours a day, and we try to listen to what the fans want. It actually costs a lot to maintain the standard of the Shrine, but I don't mind sacrificing all that is necessary. This year the Shrine will be 10 years old. I will say our Creator has been good to us because it's not easy to run a business of that nature for 10 years. It's not easy to run a club and I pray in another 10 years, you will come and celebrate with us when the business will be 20.
Can you ascribe the success of the Shrine to the fact that it's a club with African initiatiatives and background?
Yes, that has a lot to do with it. Also the dedication of my brother and I to it, sometimes we even put our own money. We try to keep it as African as possible. We call it our dream because it is being kept in the memory of my father, so we put in our money. This has a lot to do with the success of the place because we are trying to continue a legacy in the memory of my father.
Apart from managing the Shrine, what else do you do?
I don't do any other business, but I try to manage Femi's business a bit. I also manage my father's estate along with my brothers, Femi and Kunle. I also train the girls; that is our dancers.
What are the plans for Felabration this year?
The work for Felabration this year is going on. We are hoping to bring in a lot of African artistes this year, if we have enough funds. You know, this year Nigeria will be 50, African Shrine 10, so we are going to make it big. The theme for Felabration this year is VIVA Africa. We have a video of Fela that we'll be giving to different television stations to air. It was done by Gbenga Salu. During VIVA Africa, we will talk about African unity and Africans living together as one. So the theme for Felabration this year is for Africans to unite as one. It is important because Nigeria will be 50 this year.
What does VIVA stand for?
It stands for Long Live Africa
About two years ago, there was this controversy on Felabration. Laface claimed he was the originator of Felabration and there were other issues too. Is Laface still involved in Felabration?
No, he is no longer involved. Felabration is my own origination. I called Laface to come and help me because I wanted to concentrate more on the business. This is not something I would like to discuss.
As Fela's first daughter and a dancer, have you had any memorable time with fans?
I don't look at myself as a star because I don't have any music out. But my most memorable moments were when I was on stage. I really love dancing, I love to entertain. While dancing has always been my memorable time with fans. When our fans come around to have fun with us, some people will be like no! why? But they are our fans and I'm very happy to be close to them.
Do you miss dancing?
No. I still dance when I train the dancers.
But you don't dance on stage anymore, do you miss that?
Talking about dancing on stage, I can't say I miss dancing, but maybe in a little way. Why I say I don't miss stage dancing is that at 50, I don't have that kind of energy anymore. Secondly, the energy to be going on tour, I don't have it anymore. I don't miss travelling anymore. Those days, I used to love travelling but now it's like gosh. The last time when Femi came back from the last tour and I picked him up from the airport, he was ill and when I looked at the tour plan, they were working everyday, travelling from one place to another. Femi is almost 50. It can't be easy for him.
Apart from the Shrine, how do you unwind?
I stay in the house watching films and sleeping.
Has Fela's name brought you fame?
I guess so. People knowing me, it must be through my father. I will say yes to that.
When you were young, you attended the Nigerian Institute of Journalism (NIJ). Why did you drop out? Was it that you don't love journalism anymore?
Yes, I attended NIJ. I didn't just drop out. I travelled, and by the time I came back and called, the director was like, 'you are the chap that left without saying goodbye,' so I just forgot about it. I would say it was because I wasn't serious then.
Do you still have a flare for journalism?
I guess so. I probably do, yes.
Do you have any plan in that direction?
That is a very funny question because someone sent me a text yesterday that they want me to write for their magazine. I'm still thinking about what I'm going to write about. But I believe if I'm going to write, I will be more of a political writer and highlight the flaws in government, that is where I will begin to work.
Is it because before his death, your father was known to be anti-government and an agitator for the rights of the masses? Do you intend to continue where he stopped?
Not because of that, but because government is not doing the right thing. If the government is doing the right thing, there will be no reason to criticize them. That is why I said if I become a writer, I will point out to government what is wrong and advise them on what to do, not just criticism but with advice. You have to make people's lives better by doing this and doing that.
Looking back, can you compare the government of the time your father was alive and the government of now. Has there been any improvement?
We are even going in reverse. It is worst because when I was growing up 20-40 years ago, we had light and when NEPA takes the light, you will hear people protesting like 'yeeeee', but now when they take light there is no reaction because everybody has gbakamu (accepted their fate). Light situation is worse, water situation 10 times worse, you don't have water and you don't have light. Fela has one record where he said, Akara nko, 20k for one (even beans-cake is 20k each), but now that same akara is N5. It has gone really bad.
Your daughter, Rolari is around now. How do you cope when she is away? Do you feel lonely?
Maybe the first time she went to the university, when I came back I felt lonely, but after that, I got used to it. In fact, now that she is around, it's wahala. At first, yes I was lonely, but now I have gotten used to it.
Are you considering remarrying, at least for companionship sake?
I have a companion and we are very happy together. Marriage is not really necessary. I have a partner, it doesn't mean we have to get married to be happy.
What is it like being a single mother?
My mother was alive when my ex-husband and I broke up, so I always had help. Anytime I had to go on tour, my mother will look after my daughter, so I didn't have to worry where my daughter would be. Being a single mother was not really difficult for me because I always had my family all around.
Didn't Rolari miss a fatherly figure in her life?
Well, she is very close to her father, so that is not a problem.
Have you had any regret so far?
Regret? You can't live up to the age that I am now and not have regrets on something or the other. What exactly I can say I regret I cannot tell you now because I don't know. I cannot pick out something and say 'oh! I regret this', but there is no way you will live up to this age and you will say you don't have regrets. My joy supercedes my regrets, so I can't tell you I regret this or I regret that. I don't dwell on such things, if its gone it's gone, there is nothing you can do to change the situation. For instance, if you are walking and you didn't see something, and you fall over it, the next thing you should do is stand up and move on.