I don't attend celebrity events 'cos' I want to keep my privacy — Funmi Holder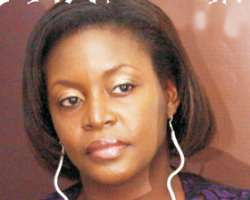 If there's one thing Funmi Holder has learnt in her eight years sojourn in the movie industry, it's how to believe in herself and be able to interpreter her roles.
The University of Ibadan Microbiology graduate, who says, she has a strong passion for acting, is one of the major cast of the M-Net produced soap, Tinsel, which entered its third season and was launched recently.
She lets us into her secret as a cast of Tinsel and also, how she has been able to steer from scandal since she made her debut in the movie industry.
Read on…
Not a new face I have been in Nollywood for more than eight years and I have acted in great movies like "African Queen" produced by Blessing Effiom, 'Azuka' directed by Jeta Amata, "Eating with the Devil' and Amaka Igwe's "Violated'.
But the movie that launched me into limelight, was "After the Promise" and it was shot in Ghana.. In that movie, I played a lead character. It also featured Zack Orji and many other popular faces.
I started acting while I was still an undergraduate at the University of Ibadan. And when I started, I was coming all the way from Ibadan to Winnis Hotels in Surulere, where auditions were conducted on daily basis.
I was at Winnis on four occasions before I was lucky to run into a producer who took me to Ghana to shoot his movie. And that marked the beginning of my acting career.
My first lead role in Madu Chikwendu's 'Bound by Destiny', produced few years ago was applauded by movie buffs.
At the moment, I'm not doing much in Nollywood because of my involvement in the M-Net produced Tinsel.
Crossing over from science related discipline to arts
Yes, I read Microbiology, but I have strong passion for the arts. I used to act while I was in my secondary school. Then, I used to participate in our cultural dances, poetry recitations and dramas. I'm an art person right from birth. I knew I have a flair for acting, and I had a talent that needed to be honed.
Next level for Me.
For me, Tinsel is the best thing that has ever happened. I intend to remain with Tinsel because it has a global appeal and wherever it is going to, I intend to go with it.
Difference between Amaka Okoh as a character in Tinsel and Funmi Holder!
Amaka Okoh in Tinsel is calm even when the sky threatens to fall down. She's always in control of every circumstances around her and these quality Funmi also posses. I'm always in control regardless of whatever situations I found myself.
That's Amaka Okoh for you. I took over the role from someone else, who was playing the character. At the on set, it was a bit challenging for me, fitting into the character and all that but soon I got used to the role. Always wanting to be in control is the sharp similarity between Amaka Okoh and Funmi Holder.
Role I cannot play in movie!
There isn't any role I cannot play, except where I will be required to expose my body-nudity. But if it's artistic, yes, I will do it.
Typecast!
Like the movie, which I did in Ghana. I was made to play a village girl who was raped, got pregnant and turned into prostitution. Eventual she got married. The role was diverse and it really helped me a lot. I have acted emotional roles and at the same time, played the bad girl . I don't think I have been typecast in any movie. There's no role I cannot play provided I will not be compelled to expose my body.
Role that challenged me most.
I will say, playing Amaka Okoh in Tinsel challenged me a lot because I had to struggle to fit into a role that someone else had played. So, there was a particular expectation from my side. Getting to play the role of Amaka was quite different from getting a role in Nollywood because, here, professionalism is at its highest while the equipment in use were some of the best in the world. It is a new world for me; a new challenge.
Any scandal!
Luckily for me no. I have actually kept a very low profile. This is because I don't want to be misquoted. Naturally, I'm a very private person. and I don't really go out much. I'm not an outgoing person. I guess people that usually suffer severe scandals are those who go out to social and celebrity functions.
Managing fame!
Because I don't usually mingle with people so much. I try to shy away from facing the camera. I don't attend celebrity functions whether I'm invited or not. I dare not attend.
Coping with living a private life
For me, acting is a passion. It's not because I want to achieve fame that drove me into acting. A lot of us are in Nollywood for different reasons. Some are in the industry to achieve fame, while many others are in the industry to make money or for the passion of it.
I'm in Nollywood for the love of acting. I don't go out of my way to seek notice or pose for pictures during red carpets and all that. I'm a very shy person and I do not want to be noticed in any way.
Do I look humble?
For me , what you see is what you get. I'm a very simple woman by nature. That's why I keep a very low profile. I don't like competition or loudness. For me, if I'm not on location I'm either at home watching television or sleeping.
Do you make friends?
Yes, I do. I usually hang out with my friends during weekends.
And you fall in love…
Yes, I do. I'm in a relationship.
Who do I look up to!
I don't really look up to anybody, but I have a lot of respect for some of my colleagues. I have a lot of actors and actresses that I admire their works, and it does not mean that I look up to them for anything. When I look up to somebody, it means that I see that person in form of a demi-god. No, I don't.
Measuring stardom
This stardom of as thing, I really don't measure it in terms of popularity. I believe there is room for everyone, wanting to come into the industry. Our destinies are not same. while one person may turn out a mega-star, the other person may become just a star. It all depends.
Sharing same set with Ghanaian Jackie Appiah!
Yes, I featured in a movie with her in January, this year. I was actually cast for the role in that movie because the director thought we look alike. She's a nice and fantastic actress. I love her.
Why I couldn't follow my brothers' footsteps
I'm from a family of four with three big brothers. Though I was a science student, I knew I had a calling in the arts.
My three brothers are medical doctors by profession today.. I wanted to follow their footsteps, but unfortunately, I was not lucky enough to gain admission to study medicine. I settled for Chemistry, but changed to Botany because I couldn't cope.
Where my strength lies!
I'm a strong-willed person. If I have a cause, I'm usually follow it to the end