Actress, Princess Bubemi: I Never Joined Nollywood for the Money…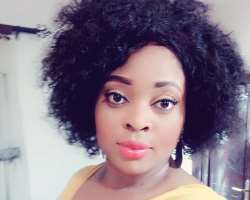 Fast-rising Edo state born Nollywood producer cum writer, Princess Bubemi, is silently making exploits the industry that perceived to make stars but financially down and she is not bothered about that because she has been recording successes due to the passion she has.
Princess who started off with the production of Benin movies is already delving into full English production and in her recent interview, she started that she does not regret venturing into what gives her joy.
Read excerpts below;
You are now trying to delve into full Nollywood production, what prompted your choice?
I have always had a strong passion for acting , so I have always known that I will be back fully, though I have been off and on for a while I just decided to take my acting career a bit more serious, this time around I am not going anywhere.
You are well known when it comes to Benin movie production but how come that part of the industry is not as pronounced compared to Igbo movies?
Well the Igbos have been in the game longer than the Benins so definitely it's expected that their industry will be more pronounced as u have said, that's why I started my production from there because I wanted to promote our Edo culture, and our language should also be heard and If more people start making more Edo movies then before you know it the industry will be as popular as the Yoruba and Igbo industry, I am happy that there are so many movies dropping now from the Edo people and very soon we will get there.
Can we get to know more about your personality and why you decided to venture into movie production?
Well I can say am a very easy going person, I am very straight forward, never afraid to speak my mind, I am blunt, very respectful, friendly and God fearing. I ventured into movie production because I knew I had a talent the world needs to see. I started by writing scripts then I decided it will be better I start making my own movies, so that was when I started producing and since then I have been writing more scripts and I intend to make more movies.
It is believed that there is no money in Nollywood, how have you been able to pull through and keep writing and producing at the same time?
That's what people say but money wasn't the reason why I joined the movie industry so I don't put that forward, if eventually I start making my millions it will be because of my hard work. I pulled through because God was on my side, I can't say it was easy writing and making my own movies but I have no regret so far.
Which celebrity in the industry gave you tough time or head ache to work with?
Well no one actually has given me tough time, I have been very lucky to have worked with very nice and kind actors that have encouraged me to do better.
Who is your most highly paid actor/actress in the industry you have worked with?
None that I can think of
Why do you think cinema movies are doing well compared to movies made for the streets (Alaba movies)?
Any good job will certainly do well, either Alaba or Cinema as long as it a good job.
Do you think that people still buy movies compared to some years back when we had shops where movies were rent out but today not much in existence?
Of course yes, people still buy our movies
Some Nigerians believe that Nollywood is not yet close to what Hollywood is doing?
(Laughs), but we are really trying our best to be close to Hollywood and I believe if we get the support we need we will get there some day.
How many movies have you done so far and outside movies, what else are you into?
I can't really say for now because some of the jobs I have done are not out yet but the ones that are in the market now should be more than 10, apart from Nollywood, I have other business I am into, like cosmetics, clothing and other things.
Are you married and what is your take on celebrities failed marriages?
I'm single but talking about failed celebrity marriages, it is in every sector of life. The reason why some celebrity failed marriages are very pronounced is because celebrities are in the limelight based on their profession.