Wow! Nollywood Actor, Segun Arinze Grows White Beards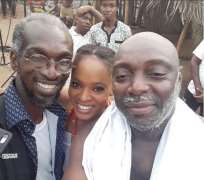 Has anyone ever wondered how Nollywood actor, Segun Arinze would look when he gets really old and begins to use a walking stick?
He was recently seen in a picture he took with some other people, looking old with white hair all over his face and one would imagine how he would look when he grows older.
The actor who was on the set of soon to be released movie "Queen of Queens", an Edo epic was looking awesome in his costume and possibly that is Nollywoods way of showing the world what the actor would look like when he is old.