Crush: Yoruba Actress, Tayo Odueke Crushes on Self on Her Birthday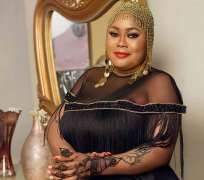 Pretty Yoruba actress, Tayo Odueke, popularly known as sindodotayo is a year older today as she appreciates God for his sustenance upon her life.
The actress could not hide her joy as family and friends celebrate her this beautiful day. It is a once in a year celebration and she is so prepared and looking ravishing in her birthday gown.
Crushing on herself, she said "Another 365days of GRACE....... allow me crush on myself cos it's all about me today😜 when u hv decided to let old things pass away & come out strong as ever💪💪 God is faithful."
We wish her many more years in good health of mind and body and prosperity in all that she does.