Actor, Moses Armstrong loses Wife to fatal Accident at Lagos-Benin Ore Road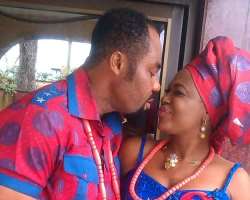 What a sad way to begin the month for Nollywood actor, Moses Armstrong, as the actor over the weekend lost his pretty wife, Rita, to the cold hands of death.
The actor's wife was said to have died due to spinal cord injuries she sustained in an accident which occurred over the weekend she was said to be traveling when their car had accident at the Lagos Benin Ore road.
Friends have continued to share the tribute messages to the deceased family as they continue to mourn their loss.
In a press statement by the Wives of Governor's Aide Association (WOGA), Akwa Ibom State, president, Mrs Janet Ebong, she expressed their heart-felt grief over the demise of their member, Mrs. Rita Moses Armstrong
According to Mrs. Ebong, "we are still in shock since on Saturday when the incident happened, all members of WOGA are in disbelief. She was our member who believed in the dreams of our leader, Mrs. Martha Udom Emmanuel" she said.