Men Who don't care for their Children are not Worth it…Actress, Yvonne Nelson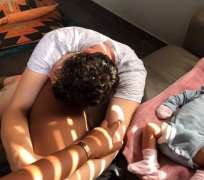 Ghanaian actress, Yvonne Nelson, is still enjoying the journey of motherhood and she is not taking any chances at all as she is all set to ensure that she cares for her child.
The actress, who welcomed her baby late 2017, seems to have got a strong message for some men who impregnate women and turn their back on them and the kids.
Yvonne stated that any man who does not take good care of the kids they are blessed with is not worth being called a father.
She went a step further on praising some good mothers out there who have been doing well by playing dual roles in the home.
In her words, "God bless every responsible mother out there God bless my MOTHER! If you are a man and you don't take care of your kids, f*ck you!!!!!"
Some have given a different meaning to her opinion considering the fact that she was raised up by her mother as she was abandoned by her father long ago.