Exactly 3years Gone, Actress, Ejiro Okurame Remembers Late Actor, Muna Obiekwe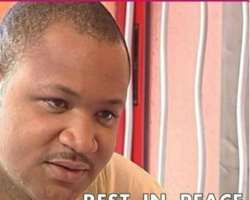 Nollywood actor, Muna Obiekwe, might be dead but his memories still lingers in the hearts of the ones who truly loved him while he was alive.
The actor threw the industry into great mourning when the news of his death went viral in 2015, leaving behind a wife and two kids.
Muna died after long battle with kidney failure which saw some few friends who were in the know turning their back on him when he needed help and it was not forth coming.
His best friend who stood by him all through his dying days, actress, Ejiro Okurame, took out time to remember the actor as it is exactly 3years since he passed away.
Remembering the late actor, she wrote, "You are still fresh in my mind...in my thoughts...in my prayers.... Can't believe it's 3years today January 19th! Wow! My darlyn dearest friend of life...You may have departed this sinful world but you are still in my heart like the last day at the hospital. You were one hell of a Private Person that I still can't comprehend how we respected, survived and valued our friendship. Your smiles, laughter and jokes made me wondered how you managed to stay put as an Orphan. Even when u got upset then...it was still fun all the way.....hmmmmmmmm...Munaaaaa. Heaven knows I miss you so so very much and you will always remain my best friend. Continue to Rest in the Bosom of your creator...REST IN PEACE MUNA OBIEKWE."