The Solomon in me told me to stop- Koffi 'Nuel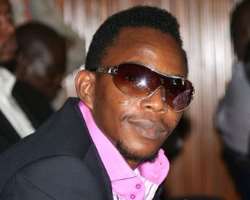 Koffi Idowu 'Nuel from every indication, is a comedian of great repute. Apart from being known for his seasoned and rib-cracking jokes, he is a musician of note. Recently, however, the Chemistry
graduate displayed his intellectual prowess to the admiration of his many fans, when he won the sum of N2 million for actor Yero Kashimo( Uncle Oghagha, of the rested Television soap, Cockcrow at Dawn), at the ' Who deserves to be a millionaire' television series. He tells YEMISI ADENIRAN how he managed to sail through the Frank Edoho's 'hot seat' and his impression generally about sales promotions in Nigeria.
Not many people expected the brilliant performance you displayed at the 'Who deserves to be a millionaire?' You did quite well.
( Laughs) Which performance? I don't know what you are talking about because I watched the programme just as you did. But seriously speaking, that won't be fair on me now. Are you saying not many people expected me to be brilliant, they think in other words that I am a dullard abi? Well, I really don't blame them because many generally see comedians as mere jesters who probably may not be able to do nothing else other than to make people laugh. But for Christ's sake, we are not supposed to be daft now, and I am telling you that authoritatively. Many of us are educated and that is exactly the point we are trying to prove to the whole world.
You studied Chemistry. How then did you find yourself in comedy?
Hunger pushed me into the job.
How do you mean?
I don't have to lie now. It was hunger, not for food only, but for a number of things. Hunger for every good thing in life, those things that could make one thrive in life. It all started when I was in my university days. Before then, I had always seen that I could make people laugh with all ease. But my intention was not to go into comedy really. I did not choose comedy, comedy chose me and to the glory of God, this has really worked for me.
To what would you attribute your success at the 'Who wants to be a millionaire'?
God who is in control of fate. When we were coming, I just felt like coming to have fun and do what I needed to do which was what I did. The success, at the end of the day, was only made possible by God who mercifully crowned our efforts with that huge success because that was not what we planned.
What was your initial plan?
Just to come and win. Uncle Oghagha himself was not expecting so much. What he had in mind before we set out was just N500,000 and we all kept that in mind. That was why I said it was God that helped us, not even our strength, after all some other people had come before us and did not get that far. When we got to that target, I was very careful not to be over excited. When we got to N1 million, we were like waoh, and then N2 million, it was something else. We could have got to N5 million but the Solomon in me asked me to leave before the ovation would be gone. I am sure if it had been otherwise, you would not have been here today talking to me.
Not at all. You solely handled the programme, your partner was only there as corroborator. Why?
You see, at the initial stage, I was to come with a lady but she could not make it at the end of the day, so, Ben had to fill in for her. He was not supposed to be there from the onset but then, his presence was an addition by every standard. I did not do it solely at all. Did you not see us agree on our decisions? Do you think I could have done it successfully on my own? No, I do not think so. It was a joint venture and God took all the glory.
What if you had not won, how would you have felt?
Bad, very bad. But there wouldn't have been nothing to it after all, the man had been living all these while, he did not die. He would not have died also after the programme. We were the one who took the form and slotted his name in as the person who deserved to be a millionaire. But really, if we had performed beyond expectation which was the man's desire, I would have felt very bad. Thank God we did not.
Did you then give uncle Oghagha all the money?
Yes now. Is it not his money and did we not call him up because we felt he deserved to be a millionaire? We gave him everything.
A lot of people believe the organisers of sales promotions here in Nigeria are fraudulent and are most times selfish. For the 'Who wants to be a millionaire' that have been on for a while now, some believe they don't hand over all the money to the winners. How true is this?
I may not be able to speak for other bodies, but for MTN, I can tell you authoritatively that they are honest. We won N2 million and we were given all of the money, not a single kobo was deducted. They have been at this for a while now and I don't think any of the beneficiaries would keep quiet if they had been cheated. Honestly, they are doing well and they should be discouraged. MTN is a big corporate body. It is financially strong and up to the task set before it. So also is Zain and many others that I have been privileged to be close to. If there is anything I like to support, it has to be educative and relevant. I am proud of it. I give them kudos. Their programme above every other things makes a lot of sense and it is very benefiting just like the Zain's too. They give all their prizes out. They have it now and like I said, they would not also want any scandal on their name.
Who are your mentors?
God the Father, Son and the Holy Spirit .
You sound very religious how deep are you?
I am not deep enough, I want to be deeper.
How do you mean?
I like to give back more time to God. He own the accolades. I also pray to be good to others.