El-Rufai Allocated 12, 816 Plots In 5 Months– Panel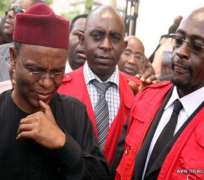 ABUJA, June 06, (THEWILL) – The former Minister of the Federal Capital Territory (FCT), Mallam Nasir el-Rufai allocated a total of 12, 816 plots in the last 5 months of his tenure as Minster of the FCT, a Ministerial Committee has disclosed.
The Committee also revealed that a total of 18,445 plots of land were allocated in the Federal Capital Territory from January 1, 2007 to April 2010.
The Chairman of the Ministerial Committee on Repositioning Land Administration in FCT, Senator Saidu Mohammed Dansadau made this revelation while presenting the report of the Committee to the FCT Minister, Senator Bala Abdulkadir Mohammed weekend in Abuja.
The Chairman further revealed that 12, 816, which constitute 70.24 percent of such allocation, were done in the last 5 months of Mallam Nasir Ahmad el-Rufai's administration.
Senator Dansadau disclosed that the administrations of Dr. Aliyu Moddibbo Umar allocated 1,040 while that of Senator Muhammad Adamu Aliero allocated 4,589 plots out of those plots, which constitute 5.70 percent and 25.15 percent respectively.
He also disclosed that the administration of Mallam el-Rufai allocated 254 sites for Mass Housing Scheme; Senator Aliero allocated 71 Mass Housing Sites but that Dr. Modibbo did not allocate a single Mass Housing plot.
His words: "The phenomenon of double/multiple allocations, forgery and falsification of records has become a behemoth of monstrous proportions and the Committee discovered that revocation of plots without regard to due process especially non-compliance with Section 28 of Land Use Act and complicity on the part of some FCT officials are responsible for the menace."
Senator Dansadau remarked that the Committee observed that most Mass Housing allocations during the period under review were not subjected to any guidelines while Lease Agreements were not respected by both parties to the lease.
He lamented that the way and the manner the Mass Housing Programme was managed gave the land speculators upper hand in the scheme at the expense of genuine property developers with track records of performance in the sector.
Responding, the FCT Minister, Senator Bala Abdulkadir Mohammed assured that his administration would provide the political will to implement the recommendations of the Committee.
Senator Mohammed however expressed concern over the 6,000 allottees who, lost their land titles as a result of Government actions who are still awaiting alternative allocations and thus, promised that appreciable percentage of all land allocation during his tenure would be set aside to provide them with alternatives.
According to him, his administration would do everything possible to protect the integrity of land titles in the Federal Capital Territory; stating that the government is already reviewing the activities of the related departments with a view of flushing out fraudulent staff in the system.
"Therefore to correct this anomaly in our personnel, your recommendation for an FCT Civil Service Commission shall be examined gravely and with utmost expedition," he stressed.