Singer, Lami Philips loses Grandma at Age 97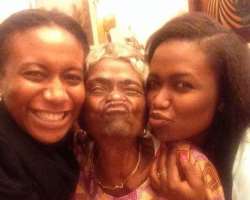 When we see sad stories of some people dying at the ripe old age, we are left with no choice but to pray to God for a good life to live well and make good impacts that we'll be remembered for.
Such was the case of singer, Lami Philips, who recently woke up to the sad news of her grandma passing away to glory.
Her grandma was able to hold on so she can be part of those that will be celebrating the New Year which she did but had to bid the world farewell as it was time to go and rest.
Sharing the sad news, she wrote, "I woke up this morning and said "ah so it's not a dream.. my dandelion has passed "... my head hurts.. my heart aches. Granny your daughter is missing you o.. mmh. You LIVED! You lived completely and you lived for God. You brought everyone together. You spoke your mind till the end. In perfect mental state and physical capacity.... singing hymns and praying psalms. Granny.. THANK YOU. Thank you .. for too many things I can't begin to mention. You were a total woman. We are big babies because you left us at 97 and we shouldn't be weeping but we really miss you. I loved that you didn't fit into anyone's definition of who you should be at any time and you were always full of life. Thank you for imparting unique wisdom to us. For being soooo hard on us growing up and making us tough. For forcing me to eat Quaker Oats . Granny You should be anyone's point of contact for a life well spent. See all your children, grandchildren and great grandchildren circling around you . You went how you wanted. Quietly and quick. no sickness no pain. My hero, my queen. Sun re o. We will take care your Toyin.. she's our baby now. My Folashade.. rest in Gods love. You remain GREAT."