Actress, Ajanigo Simeon Looking Sexy After Child Birth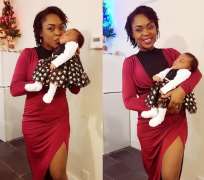 Pretty Nollywood actress and new mother, Ajanigo Simeon, cannot stop gushing about being a new mum as she continues to cuddle her baby and smile seeing that she has brought another life.
The actress has been dancing around the whole house with her little bundle of joy and it goes to show that she has really yearn for such time to come around where she will hold her own child.
The actress is not looking like bad at all as she is already slaying just about four weeks she got out of the hospital and this has continued to make her hubby smile knowing that he made the right choice and investment.