I LOVE THE CHALLENGES OF BROADCASTING – RONKE RAJI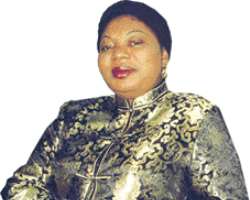 Ronke
Ronke Raji didn't train as a broadcaster. She came into broadcasting by pure chance just like everything in life and she has made the best of it. How has it been? Find out in this short but incisive interview with Sunday Sun's Oluwatoyin Akinola. Excerpts…
Finding yourself in broadcasting, would you say it's been a dream come true?
I think it was more of an incidental thing. I came into broadcasting by being a guest on Channels Television sports programme in 1999. I was one of the panelists on the Under 17 World Cup that Nigeria hosted (Nigeria 1999). From there I joined Channels.
What were you doing previously?
I was working with an IT company because my background is actually science. I studied Computer Science. When I got the offer, I felt this was something I had a flair for, because I like football. Because of the way Channels is structured, you can't do one thing forever, so I was moved to the business desk after just one and half years on the sports desk. After some years on the desk I was promoted News editor.
So you never thought of journalism or broadcasting?
Never. I can say I have a flair for writing. I wrote a lot right from my secondary school days. I belonged to a lot of clubs that were involved in writing , and I also loved writing my friends. Then there was no email. My English teacher said that was good and often commented on my compositions.
Do you miss IT?
Maybe; but not exactly. I don't miss IT, because even now today's broadcasting entails being technologically savvy. There is nothing you can do without IT. I may not be doing the programming part, but I still do part of IT.
How challenging has the job been?
It's been quite challenging. At the beginning, as a cub reporter you had to go to the field, you get your stories. I would say for sports, it was a bit easier because I had a flair for it. The challenges are the long hours and sometimes difficulty in getting stories. When you are working on a story, and you need information, you may not readily get it because Nigeria hasn't developed to that point where you can just call anybody or click on a website.
When you need information about a government agency, you'll have to go through a lot of stress, that's one major challenge for Nigerian journalists. In other parts of the world you readily get information, for instance if a company releases its results, you get that to the minutest detail, and I keep wondering when we'll get to that stage.
What's your typical day like ?
Now we run shifts. My typical day starts with prayers. I'm a Moslem… I get up and thank my creator for the privilege of seeing another day. I'm not so much into breakfast, but I take some fruits, then head out. But I'm particular about lunch. If I'm on the morning shift , the shift starts from 7a.m, which means I have to prepare every news that goes on air, update every bulletin up until the time I hand over to the person taking over from me.
How has it been as a News editor?
I must say I felt proud when I was promoted three years ago as a news editor, but perhaps I underestimated the workload. As a News editor, the buck stops on your desk. If anything goes wrong, you are responsible. If all goes well, you get the credit. You just have to be prepared. You have to be on your toes and be alert with your ears to the ground. You must have a flair for the job, with a very good network because sometimes even in the industry when you think there's no information, there's some information somewhere. It depends on how well you've been able to build your network.
Are men intimidated by your status?
I wouldn't say yes. I'm the only female editor right now, and I get on well with my colleagues. It's all about the job. This is one organization where your gender doesn't really matter. The important thing is just to get the job done.
So as a female boss, what matters is your style of getting the job done.
I like to get involved. If I give a reporter a task, before he goes I give him the brief… this is what I want. I've been a reporter so I know the areas I want you to look at. So before you even start the story, I would have told you, this is what I want. And when you come back, and you're having problems I can always suggest, why don't you do it this way or that way. And if you give me a story that is not complete, then you've got to do it again.
Can you recall anytime things went wrong and how did you handle that?
Not while I was on duty. For the station, it was when we had that problem on the president's health, perhaps because we were a local station. Before we used that story, it was all over the international networks. It was a difficult period not just for me, but for everyone here. That's the only real tough time we had in recent times and that just put us on our toes, that we need to be more careful.