Ghanaian Actors, John Dumelo and Yvonne Nelson, Gets Mouths Running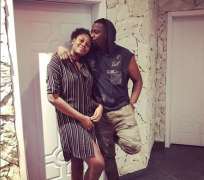 Popular Ghanaian actor, John Dumelo has responded to a comment on one of his instagram posts with Ghanaian actress, Yvonne Nelson, using a love smiley as his caption.
He got so many mouths running as he posted a picture of himself holding Yvonne on the neck and kissing her forehead which made one of his followers who think they would make a good couple, ask why they are not married yet.
Another of his followers who does not think they would be any good together then commented, asking if he should leave his wife and kid for Yvonne, making it seem impossible and also making another of John's follower to ask since when John has got a wife and kid.
The actor later reacted to the comment. In his words, 'because u married me and gave me a daughter abi?'.
While some think it is mere friendship, a few others think it would lead to marriage as they see love and not friendship.