Actress, Nkechi Emmanuel, Celebrates Traditional Wedding With Heartthrob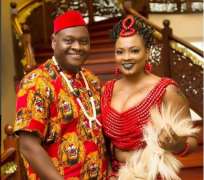 Film director and scriptwriter, Ambrose Amara, has finally knot the tie with his heartthrob, Naomi Nkechi Emmanuel, as they celebrate their traditional wedding.
The couple who wedded on the ninth of December, 2017, were looking very radiant in their traditional attire.
Ambrose who uploaded some of their pre-wedding photos, could not hide his joy as he kept praising God for giving him such a woman and he kept anticipating the D-day which eventually was a success.
In his words, 'A bright and wonderful eternity with this beautiful creation from God #NAM2017 , The angel of my life and I, He who finds a wife, finds a good thing...I've found my treasure!, Counting down the days to our wedding, A day God has created. I love you honey'.
#NAM2017 has rocked as they begin a new phase in life with more responsibilities.