Dealing With The Pressures of Stardom By Funke 'Jenifa' Akindele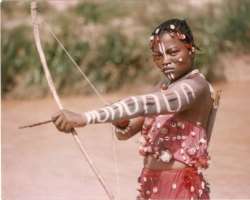 Funke Akindele is an A list actress and Movie Producer.
I am FOREVER grateful to God for the grace and privilege to emerge as one of the celebrated entertainers in Nigeria. What I didn't expect was the pressure and heartbreaks that often go hand in hand with so many blessings! Since the mega success of 'Jenifa' Movie brought me into the international limelight and opened some great doors for me, I have come to understand what mega stars have to deal with. The bad rumours, the misunderstandings, the second-guessing and the constant, and sometimes unrealistic, expectations from people sometimes just make me burst into tears.
There are times I dread reading some rag magazines/newspapers because I don't know what new lies or rumours they are going to start about me. Yet, my managers insist that there is no need to challenge the bad press or take anyone to court. According to them, all this come with the territory since the press are also very instrumental in bringing me to stardom, it is not wise to fight them unless I really really have to. As mentioned, one of the most painful by-products of my stardom is that I have become fair target for many reporters, some of them very responsible, and some not so responsible, in their coverage of my life and career. I have read some unfair stuff about me in the newspapers that want to make me throw up with anger/disgust while I have also read some coverages that made me smile and laugh.
So, over time, I have learnt to take the good with the bad and just hope that somehow the more vicious reporters will get to be more merciful as time progresses, while I continue to appreciate and pray for the ones who report good things about me. I have experienced some serious sadness and discomfort in many areas as a star, while I have also had some pure joy and meaningful relationships and cooperation from places that I never thought I would be able to influence. For instance I have enjoyed enormous support from some First Ladies like the first Lady of Lagos who have who have been gracious enough to allow me to contribute to their charitable causes and programs.
The joy of contributing to my community makes all the other unpleasant aspects of stardom worth it! I loved working on the AIDS and the Homeless Projects with the government and hope for more opportunities to be relevant in my generation All in all, I have come to appreciate the goodness of God in my life, take the good with the bad and just enjoy it all. Regardless of the negative sides of it all, it is always much better and more fulfilling to be an international star making a positive change in society than a struggling actress!
…Funke Akindele