Fans of Nollywood Actress, Yvonne Jegede, Blasts her as She Shares Semi-Nude Pictures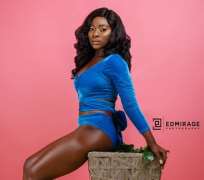 Fans of Nollywood actress, Yvonne Jegede Fawole, have blasted her on instagram because of her recent pictures, revealing most parts of her body.
Yvonne is loved by many but recent pictures have got so many tongues wagging as some have criticized her dressing, saying soon she will be the one to cry on here that her husband divorced her.
Some have appreciated the work of God upon her while some have reminded her with their words that she is married and should not been seen sharing nude pictures of herself.
One of her fans wrote "My love you are already more beautiful than beauty itself so you don't really need to show your naked ass to prove it".