A.Y GOES DUTCH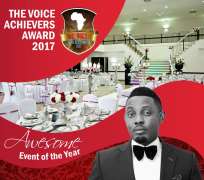 The multi-award-winning actor, ace comedian, radio and T.V presenter, actor, writer, director and MC will hit the Dutch city of Amsterdam on the 17th of November 2017. One of African's most respected comedian will also receive an award at the event.
The most sort after comedian is expected to crack many ribs with his first class jokes. Born as Ayo Makun, A.Y, has promissed residents of Amsterdam and adjoining Central European countries like Germany, Belgium, Luxenburg, France and others that it will be a show to remeber.
The organizers of the event, "The Voice African Achievers Award" have promissed their guests and supporters of a unique occassion that will culminate with a gala night. The Voice Magazine, published in The Netherlands since August 1999 will be marking their 18th anniversay in the media world and will use the event to recorgnize distinguished Africans and Friends of Africa.
The event known to be the biggest African event in Central Europe attracts guests from Africa, Europe, North and South America and the Caribbean.
Notable Africans that have received the prestigeous award includes: Dr. Kenneth Kaunda, former President of Zambia, The President of Sierra Leone, President Ernest Bai Koroma, Bishop Matthew Hassan Kukah and many others.
"A.Y will rejuvinate your life on the 17th of November 2017" stated an official of Organization. The event will take place at De Koning Party & Event Amsterdam Isolatorweg 29, 1014AS, Amsterdam.
For more information on the award ceremony and coverage of the event, media interviews with any of the awardees, kindly send a message to the press department via our e-mail at [email protected]