No Matter how Good you are in Bed, Kitchen, you can't Satisfy a Man…Actress, Lizzy Anjorin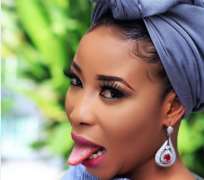 Nollywood actress, Lizzy Anjorin is all out to speak the truth the way it is as this time she is all out for the men.
The actress in her latest post stated that no matter how good a woman is in bed, kitchen or spiritually filled, her good heart can never hold a man down.
She stated that 80% of men are naturally born polygamist as she urged ladies to be very careful before showing off their so-called king on social media.
"80% of Men are born polygamist; don't go too far about them. Ladies: be much concern about what you ve in your bank account or in your brain to make a living before you start showing him off to ur friends or uploading 'him kneeling and giving promise ring to you on social media" always ask urself this question "I'm I mentally, financially and spiritually sound?? Men can do unthinkable things to get you, but hey! Shine your eyes, try to study your king well cos some men turn monster when they are financially down.
"Are you ready to give little back out of the money he spent on u? Do you give him gift often? Though, no matter how generous, financial or spiritual stable you are, or how good you are on bed or in the kitchen will not satisfy MEN... Some men say worst and evils things about their women when funny things happen to their job/career... Some men will just look at you and stylishly mock you with your flaws, some men are mummy's/family's pet, can u endure that?
"Another secret is that; some men derives joy in making their women cry or go through unbearable pains; some men can sleep with your house help or ur friends but that does not make him a bad person and that doesn't mean you should quit instead, buckle-up and raise your head high, be positive and work harder- better things are ahead of you... Incase you find yourself in an unpleasant relationship(note; unpleasant is different from abusive) and you don't ve a better offer yet, pls don't quit or give attitude(bcos d next man can be more disastrous) between U and I; some of our past relationship are far better than the one we are into presently that's why an adage says: a bird at hand is better than millions in the bush so be calm and steady, make sure u dance or engage urself in other exercises; pray hard; get a good confidant; talk often with your friends(not d ones that's eyeing ur man o cos he/she will turn Al-jazeerah) and check your BP often, these five things play a very crucial role in ladies life.. "She slept and die, she want to give birth and die, the worst is; she was vomiting blood, they used her for rituals" hell No!!.. If you don't take good care of urself pple will mock 'ur enemy' on sick bed"