Police arrest 3 suspects over murder of Hector Jobarteh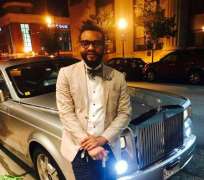 The police have commenced investigation on Hector Jobarteh's murder. Gulder Ultimate Search Season 3 Winner, Hector Oluwaseun Jobarteh, 38, was killed by unknown gunmen at his residence, Olufowora Close, New Oko Oba, Agege, Lagos State
The victim was said to have been trailed after picking up his junior brother from the Murtala Muhammad Airport, local terminal, to his home of residence around 8 am on Saturday, September 2, by the attackers.
The men were said to have shot him. He was later rushed to a hospital in the area where he was confirmed dead.
.

Hector Jobarteh
(Facebook/Hector Jobarteh)
According to Punch Metro, it was gathered that the assailants had lost track of the deceased at first when he entered his apartment, but after threatening one of the tenants of the residence, he directed them to his apartment, where he was shot.
He was taken to a hospital in the vicinity, where he was pronounced dead. The incidence was said to have been reported at the New Oko Oba Police division. A police source said investigations showed the murder was cult-related.
The deceased was reportedly trailed back home from the Lagos airport.
(Nigerian Tribune)
"He had returned to the country about three months ago. He went to pick his brother on Saturday. The killers followed him to his house. When they got to the apartment, they met his younger brother who asked who they were. They told him that they wanted to see his elder brother. Immediately they sighted him, one of them brought out a gun and shot him dead."
"From what we have gathered, it appeared to be a reprisal. There are some pointers that it had something to do with cultism."
Hector Jobarteh when he won Gulder Ultimate Search 3
(Facebook/Hector Jobarteh )
Three suspects had been arrested in connection to the attack according to the Lagos State Police Public Relations Officer, ASP Olarinde Famous-Cole.
He said, "The residents picked the faces of some of the suspects, which aided police investigations. Three suspects have been arrested."
Hector Jobarteh, his wife and daughter
(Facebook/Hector Jobarteh )
The deceased is survived by his wife, Oseyi, also a former Gulder Ultimate Search contender and a daughter.