Humble beginnings: Nigerian entertainers who hawked their way to stardom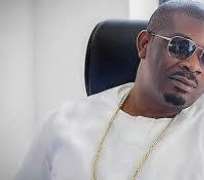 Today they may be the toast of the society and role models to many youngsters thanks to the spotlight shining on them but as the saying goes, everyone has his/her humble beginning.
We beam the light on some Nigerian artistes who were once street hawkers before luck smiled on them
Don Jazzy
For over a decade, prolific beat maker, Don Jazzy, has succeeded in making Nigerians dance to his beats. It is well known that once you hear, 'It's Don Jazzy again' in the intro of a song, it is a guaranteed hit. However, what most people do not know is that Don Jazzy whose real name is Michael Collins Ajereh was once a street hawker who sold foodstuff on the street of Ajegunle to support his parents.
The Mavin Record boss who was ranked by Forbes Africa as among the 10 top richest entertainers in Africa once hawked Akamu, Agidi, fried yam and plantain.
Reekado Banks
Just like Don Jazzy his boss, Reekado Banks is no stranger to street hawking. As a young musician, Banks has worked with the crème de la crème of the Nigerian music industry. However, his journey to stardom was not as smooth as his vocals.
The Mavin Records act once revealed that after informing his parents of his intention to pursue a career in music and getting their blessing, he had to hawk blenders on the streets of Lagos and work as a labourer at a construction site, in a bid to earn some money to record his songs.
Mercy Johnson-Okojie
Nollywood star, Mercy Johnson-Okojie, is unarguably one of the most loved female faces in the Nigerian entertainment industry. Known to always wear a smile, she is definitely one of the most versatile script interpreters in Africa.
The fourth child in a family of seven, who was raised by a retired military officer, had a humble beginning. There was a time she stopped schooling to hawk sachet water and plantain.
Humble Smith
For the Osinachi singer, life has not always been a bed of roses and this has enabled him to remain focused now that the spotlight is shining brightly on him. The singer revealed that while he was with his parents in Ebonyi State, he was known as a moin-moin seller.
The singer said that he hawked the food with his siblings on the streets to augment whatever income his parents made and that was how his parents were able to train eight children through primary and secondary school. But all that is now history as the singer is one of Nigeria's raves of the moment.
Patoranking
Dancehall singer, Patoranking is the toast of many in the society today, not only because of his talent but he successfully brought back a genre of music, reggae and dancehall, which was fast going into extinction in Nigeria.
However, coming to fame was not that easy for the Ebonyi State singer who grew up in the slums of Ilaje, Ebute Meta, a Lagos suburb, in the one bedroom apartment which he shared with his four siblings. In February 2015, the singer took to his Instagram page to share his story of humble beginnings and how he sold rat poison in Lagos traffic, became a bricklayer, all just to raise money to help his family.
In 2014, he won the Headies Award as the 'Next Rated Star." Today, the dancehall singer is one of Africa's renowned artistes and he has collaborated with some international heavy weights like Elephantman, Sakordie but to mention a few.
Solidstar
Today Achivas Record music act, Solidstar, would probably be mobbed by his fans if he went to certain places, all thanks to his talent but the singer once revealed that he tasted the bitter side of life when he lost his father at a very young age.
He noted that the only person he had as a close confidant was his elder brother. With the death of his father, he had to do something to survive; so he sold meatpie and sachet water at the Nigerian Ports Authority.
Mastakraft
Although his persona oozes that of a gentleman who cannot kill a fly, Mastakraft is one Nigerian entertainer who has seen a lot in his life. The beat maker revealed that he had to do some menial jobs to survive while growing up in the streets of Ajegunle.
He noted that growing up on Ajegunle was an experience for him because he was born into abject poverty and said the only thing that gave him joy was music which he started in a white garment church. At a point in his life, the music producer had to hawk pure water, tin tomato and tissue paper, just to mention a few.
Chidozie 'Sambassa' Nzeribe
Multi-talented actor and winner, Best Supporting Actor, AMVCA 2015, Chidozie 'Sambassa' Nzeribe is another celebrity, who has been through rough patches before attaining stardom.
Shortly after winning the coveted award, Nzeribe, who said he grew up in Isolo, a suburb of Lagos and lost both his parents at a relatively young age, hinted that he hawked virtually everything, from fufu to puff-puff to earn a living. – Culled from Punch.